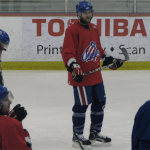 Walking into Amerks practice expecting to see a key player or two missing and on their way to the Florida Panthers but so far that's not the case.
With the talks of Florida trading Vokoun or Seidenberg I was expecting to see Alexander Salak and Keaton Ellerby missing, but they are still in the building. The Panthers have a game tonight at home vs the Flyers, I suppose they could have a charter plane on standby.
The team is having two different practices though, not unusual but rare after two days off the ice. While one group is on the ice the other is doing work in the gym.
On the ice right now I would probably list as not going anywhere. Those players are Steve MacIntyre, Jimmy Bonneau, Tyler Plante, Jeff Taffe, Graham Mink, Rory Fitzpatrick, Jamie Johnson, Jordan Henry, Luke Beaverson, and Mike York.
I'll try and have more updates as the morning goes on.