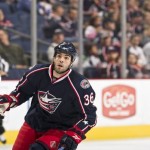 The Amerks have struggled in a number of areas for most of the season, the one area they've needed improvement on since day one has been defense.  That's something the Amerks management has talked to the Panthers about and prior to the trade deadline the Panthers made a move.  They traded prospect Matt Rust for defenseman Mathieu Roy from the Columbus Blue Jackets.
Amerks fans may think the name sounds familiar and it should, he has played for cross state rival Syracuse Crunch this season.
There are two downsides to the move.  One is that Roy is out with an ankle injury.  The other is that he's going to be considered an exempt veteran.  Clay Wilson is currently the exempt veteran on the Amerks roster, meaning more than 260 pro games and less than 320 prior to the start of this season.
The positive is that the Panthers did make a move.  They also made a move for a stay at home physical player to help out on defense, again the area this Amerks team has lacked since day one.  But, what's the point when healthy players who are valuable to the roster will be forced to sit out in order for this guy to play?
There are some vets who have not performed lately but if the Amerks make the playoffs I'm confident those players will step up.
An injured player who will not be able to jump right into the lineup when he's healthy without forcing the coaches to sit someone else.  Somehow this move does not seem all that great.  Others will say we should be happy the Panthers made a move in the first place, I'll nicely disagree.
The trade deadline has come and gone, now it's time for some AHL moves to occur to see if this Amerks roster can be improved or tuned up in some way.