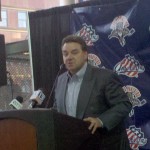 Randy Sexton met with the media in Florida today to talk about trade deadline day and according to him the Rochester Americans have got things back on track.  Sexton commented on the Amerks being 4-1-1 in their past six games and also said that the goal tending has gotten better.
Interesting.  Let me put my boots on, something is getting deeper in here.
The Amerks are 3-3 in their past six games and 4-6 in the past 10 games.  The Amerks have also been outscored 35-29 over the past 10 games.  As for the goalies, I'm not really sure how they've gotten better.  If the guy had traveled to Rochester to watch some games he would have seen with his own two eyes that things are not as they appear.  Two of those three wins have come against last place teams and the other was thanks to last minute heroics by Mike York.
He's getting his information from someone in Rochester, it's obviously not from this web site or from reading the Democrat and Chronicle.  We appear to share the same views and doubts about the potential of this team.  That leaves the Rochester coaching staff and upper management.  Read into that how you want.
Sexton also said that they are going to continue to try and improve Rochester as much as they can.  Adding more veterans and trading for an injured player are questionable improvements.
He did say that the Amerks will suffer a little from the loss of Ellerby and Garrison which is true.  He did follow that up with one thing that I agreed with which is that there are a lot of young players in Rochester and they have the opportunity to step up and show what they can do.
That seems like the common theme with the Florida Panthers.  A lot of players that have the opportunity to step up and show what they can do.  It'll be a great day when they have players that can just play and produce, which is something they're rebuilding for.
Just another reminder about being thankful to Curt Styres for the money he has spent on players because without them this Amerks team would be in last place again this season.
http://www.youtube.com/watch?v=EOOfs5Y9UzA&feature=player_embedded
Thanks to George Richards for the video.  Go to around the 5:30 mark to watch Sexton comment about Rochester.