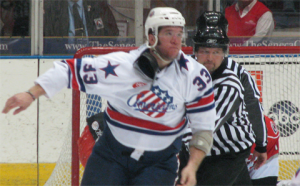 The game on Friday night between the Rochester Americans and Albany River Rats took less than 12 minutes before the two teams proved they were not going to be pushed around by the other.  Steve MacIntyre set the pace early with a huge hit on Casey Borer behind the Rats net and from then on it was a physical first period.  That type of hit is what fans would love to see more of.  A big hard clean hit.
Steve MacIntyre vs Zack FitzGerald at 11:17 of the first period:
http://www.youtube.com/watch?v=zQvNMfGkmJw
Two seconds later Jimmy Bonneau vs Brad Herauf:
http://www.youtube.com/watch?v=YIympUYecTM
The Amerks are on the road on Saturday night against the Syracuse Crunch, a team they've beaten eight times already this season.  The Crunch will be looking for redemption on home ice and I'm sure Mirasty will be looking for a rematch against MacIntyre.  Unfortunately I will not be at the game, hopefully someone else will to get some video!