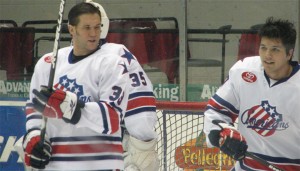 As mentioned earlier on Tuesday through Facebook and Twitter, Jimmy Bonneau has been suspended an additional two games and Steve MacIntyre was just suspended for the one game and is eligible to return.
In case you missed the story, it's all from altercations during the Amerks vs Crunch game on Saturday March 13, 2010 in Syracuse.  You can read the details of the night here.
Here's the official announcement from the American Hockey League:
AHL announces suspensions
March 16, 2010
SPRINGFIELD, Mass. … The American Hockey League today announced that Rochester Americans left wing Jimmy Bonneau and Syracuse Crunch left wing Kevin Harvey have been suspended for two (2) games each as a result of their altercation at the conclusion of the game between the teams on Mar. 13.
In addition, both the Americans and the Crunch have been fined an undisclosed amount.
Bonneau will miss Rochester's games Friday (Mar. 19) at Binghamton and Saturday (Mar. 20) at Wilkes-Barre/Scranton. Harvey will miss Syracuse's games Wednesday (Mar. 17) vs. Manchester and Friday (Mar. 19) vs. Bridgeport.
The American Hockey League also announced that Rochester Americans left wing Steve MacIntyre has been issued a one-game suspension as a result of a match penalty incurred during the same game.
MacIntyre, who already missed Rochester's game vs. Grand Rapids on Mar. 14, is eligible to return effective immediately.