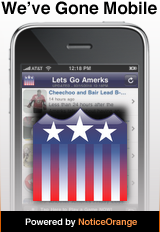 Introducing the very first app that will deliver news and information about the Rochester Americans delivered right to your phone!  If you're anything like me you're hooked on your smart phone and always looking for the latest news and information.  If you've tried to visit this site before from any type of mobile phone it should have worked just fine, but I've taken the next step in getting free applications added to the market places.
The apps are ad supported to make them free but the ad's are not annoying, they just take up a small part of the bottom of the screen.  They are also small in size and will not take up a lot of storage space.
The apps are designed to work with the iPhone, any Android based device, and any type of Blackberry.  If you have anything but one of those three types of phones you should have no problem launching http://lga585.com from your phones browser.
Simply click the link below to your type of phone and you should be taken to a place to download the application.  If for some reason it doesn't, just do a search for Amerks in the market.
Enjoy, tell a friend and take a friends phone and install it for them!
Pick your type of phone (more info below):