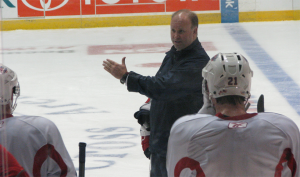 There's only 10 games left in the regular season and that sense of excitement and urgency around this Amerks team heading into the final push for the playoffs still seems to be missing.  They have a challenge on their hands tonight as they take on the Lake Erie Monsters on the road, a place they've already lost three times this season.
The Moose got within two points of the Amerks with a win over the Bulldogs on Tuesday and they play again tonight.  The Hamilton Bulldogs have first place in the North Division locked up.  The real battle now is for the second spot and home ice advantage in the first round.  That is still up for grabs to the Amerks, Moose, and Heat.
With the Monsters and Marlies both playing decent hockey recently they are two teams that could find a way to sneak in as well.  Three out of the final 10 games for the Amerks is against the Marlies.  With other games against Hershey, Hamilton, and Binghamton it could be time to really hit the panic button.
After practice on Tuesday when Benoit Groulx was asked about getting into playoff mode here's his response:
I think every team in the league who's in the playoffs or battling for positioning in the playoffs or chasing a spot that they're all in the same boat.  Every game is important.  The intensity is higher than a month ago.  Points are tough to get.  When you look at Binghamton they're one of the best in the league in the last two weeks.  Wilkes-barre has a good team.  We're all in the same boat.  We want to make the playoffs and have the best position possible and everyone understands the importance of having a strong finish.

They're all important, one game at a time.  I think we all understand that.  I think we understand if we beat them tomorrow it's going to be tough for them to get back (Lake Erie into a playoff position).

We've got to get our team ready for the playoffs.  I really feel our intensity in practice and intensity in games is  much better.  I really feel that our guys understand where we're at right now.
Actions will speak louder than words, we'll see how intense they are tonight.
The special teams have been an issue with the Amerks penalty kill unit being scored on six times in the past two games.  Here's Groulx's response to the penalty kill being an issue:
You can't win hockey games if the specialty teams are the difference in a negative way.  To me what you look for is for your team to be solid five on five and at least match the other teams specialty teams and its something we have not been able to do the last three games.  We've got to find a way to do much better the closer we get to the end.
As mentioned above, the race in the North Division is really up for grabs.
"You can't rule out anybody," Jamie Johnson said after practice.  "We just have to not so much worry about them but just worry about ourselves and win as many as we can."
When the Amerks were hot in October and November the players all gave the right response that you don't win a championship that early in the season.  With only 10 games left though it's time to get into playoff mode.
I asked Johnson if they were getting into that mode and he answered, "I think we have to.  We have not been very good lately.  We have to make sure we get a final spot in the standings."
Talking about why they have not been playing good lately Johnson said, "I think its inconsistency.  We seem to come out good for some games and real flat some other games.  It's unacceptable.  You don't go very far in the playoffs playing like that."
"It seems to be the biggest problem of our season, playing a full 60 minutes," Jamie Johnson said.
When we've seen the Amerks play a full game they've been successful.  Why they can't seem to put together a consistent 60 minute effort is up for debate.  Assuming the team makes the playoffs the only thing we can hope for is that everyone will step up their game and play as hard the first shift and the last shift.
Amerks vs Monsters tonight at 7pm.  You can listen to the game on 1280 WHTK or watch it online through AHL Live.