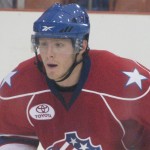 The Florida Panthers host the Nashville Predators and have called up Victor Oreskovich from the Rochester Americans to play.  Byron Bitz is out with an elbow injury which is why Oreskovich got the call.
In 34 games with the Amerks this season Oreskovich has six goals and nine assists.  He spent most of the first half of the season with the Panthers and has played in 43 games for them this season at which time he scored two goals and had four assists.
The Panthers next game is on the road in Buffalo on Thursday, the same night the Amerks are in Grand Rapids.