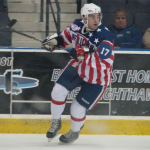 In his first professional game Carl Hudson dropped the gloves with Andre Deveaux of the Toronto Marlies.  Hudson had just skated by Jesse Blacker of the Marlies and looked like he had just barely hit him but it also looked at the time like there was an elbow involved.  Immediately after Deveaux went after Hudson which gave him an extra instigator penalty and a 10 minute misconduct.
If you have to call a winner it clearly goes to Deveaux but Hudson deserves credit for the big hit.  The extra penalty given to Deveaux resulted in an Amerks power play and a goal by Jeff Taffe to give the Amerks a 3-1 lead at the time.
http://www.youtube.com/watch?v=IsOxJMt0INk
Towards the end of the second period Jordan Henry and Phil Oreskovic must have decided they had enough chirping when they agreed to fight after a face off.  You can watch what leads up to the fight or skip to about the :55 second mark to see the fight itself.
http://www.youtube.com/watch?v=jCk2y1WRBxk
Enjoy and share!