The Amerks just finished up their typical morning skate at Blue Cross Arena prior to the last regular season home game tonight against the Toronto Marlies.  Once the Amerks get at leats one point or the Abbotsford Heat lose a game the dates for the first home games of the playoffs will be officially announced.
A couple of quick updates:
Alexander Salak is going to be getting the start in net.
Rory Fitzpatrick is playing.  It'll be his last regular season home game prior to retiring but like everyone else hopes to be playing into the month of June.
Mathieu Roy is back on the ice practicing but not ready to play.  He said his ankle is, "getting there."
John de Gray appears to be sitting out another one with an "upper body injury."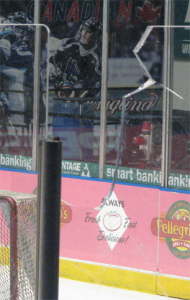 There's a lot of dangers in covering hockey, especially sitting near the glass either where my seats are.  A couple seasons ago the blade of someones stick broke and it came flying over the glass but I was paying attention and able to catch it.  A friend was hit in the head with a puck during warmups once and had to get a couple of stitches.  Tanner Glass had taken a shot that went around the boards and over the glass at an odd angle and hit her.  "They got Tanner Glass'ed" is the phrase we use if we ever see someone hit with a puck.  This morning I was taking some pictures when Jordan Henry smashed the glass out of frustration and it just missed falling on my head.  I suppose all of that is why the media typically sits up in a safe comfortable press box.
I asked Jimmy Bonneau if he's "expecting things to happen" tomorrow against Syracuse and his response was, "you never know.. but Sestito got called up so that takes away one of them."
Would be nice to have Steve MacIntyre back for the game tomorrow but Bonneau has proven he can handle things on his own.
The pink boards are up (and were at the Knighthawks game last week too if you were there) and don't look too bad.  Anything is better than pink ice.  The Amerks will be wearing their stars and stripes jerseys tonight.  The usual red stripes will instead be pink, the R in the center will be pink and there's also a pink ribbon on the front as well.  I have to admit, they don't look all that bad!
Here's pics of the boards (click for a larger image):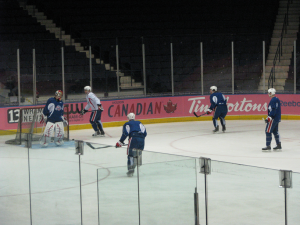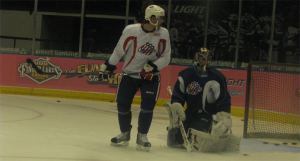 Here's a couple of other I guess you could call them milestones on the line in these last two games:
Taylor Passes Garwasiuk, Nears Merrell and Pappin: Three weeks removed from becoming just the 80th player in the 74-year history of the AHL to hit the 500-point plateau, veteran forward Chris Taylor recently surpassed Ron Garwasiuk for 13th on the all-time goals list to move within three goals of tying Barry Merrell and Jim Pappin for 11th  all-time. Further, the 18-year pro is just three assists away from his 300th as an Amerk.
Johnson One Away From 70-Point Benchmark: Amerks forward Jamie Johnson need just one point to become the first player since the 2004-05 campaign to reach the 70-point benchmark. He has just two games left to accomplish the feat, which was last achieved by Taylor in 2004-05.
See you at the game tonight!