Benoit Groulx made the decision to start rookie goaltender Alexander Salak in the first game of the 2010 playoffs for the Rochester Americans and the decision back fired on him.  The Heat scored three first period goals against Salak and that was enough for him, he was pulled after the first period and replaced by Tyler Plante who had a two period shutout.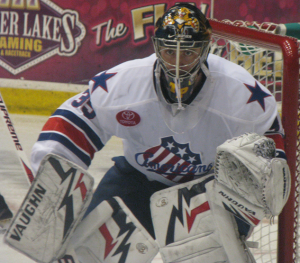 Tyler Plante was the hot goalie down the stretch and will get the start on Saturday night for game 2.  Just about everyone in attendance was wondering why that did not happen in the first place.
The Heat had 11 power play opportunities, the Amerks had eight.  Both teams scored two power play goals.  The penalties were an issue but both teams had plenty of chances, the difference was playing at even strength and the Heat had that advantage scoring a goal only 35 seconds into the game.  Rochester was not able to recover from that at all.
Chris Taylor could have wrote this article in one sentence with his comment saying, "One bad period really cost us the game."
The Abbotsford Heat also deserve credit for a well played and well coached game.  They got out to an early lead and held on to that lead and played a great defensive game, played the body all night, attacked, forechecked and did not allow the Amerks offense to really get much going.  Seems like the basics of a hockey game, something the Amerks have not really done since December.
Benoit Groulx said, "You have to give them credit.  Abbotsford played their game, a tight checking game, worked very hard and they deserved to win and it's up to us to be better the next game."
"That's why it's a seven game series, big one on Saturday," Chris Taylor answered talking about moving forward.  "It was the first game, everyone had a little jitters, we'll get there."
Keith Seabrook scored the first goal for the Heat with a slap shot from the blue line only 35 seconds into the game.
Shawn Weller scored at 8:16 of the first on the power play after Staffan Kronwell tossed the puck in from the blue line.  The Amerks players and coaches argued it went in off of someones glove and should not have been allowed but the disagreement only lasted about 10 seconds.
Jordan Henry put the Amerks on the board with a power play goal as well at 15:32 of the first period.  Graham Mink did a great job tying up three Heat players in front of the net which allowed Henry to step in and tip in a rebound into the net.
Keith Seabrook scored his second of the game and third for the Heat at 18:17 of the first period with another slapshot and it appeared as if maybe Salak was screened.
That was the game right there.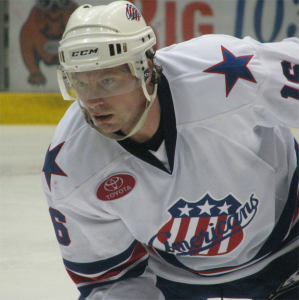 Mike York got the Amerks within one goal scoring on the power play with 27 seconds left in the game by tipping in a rebound from his favorite spot at the side of the net.  It was too little too late.
Thursday nights game was a playoff game and the season is on the line at this point and yet again we have to question the coaching strategy.  When there was a whistle with four minutes left in the game most teams would have called a time out to try and not wait until the last minute to score two goals.  Not the Amerks.  Any other team would have started the goalie that was just goalie of the month and player of the week in the league.  Not the Amerks.  Penalties were an issue it's not like the Heat completely walked away with the game.
"Overall we had a solid effort, never quit.  They're a tough team to play against," Benoit Groulx said.  "I think tonight we were a tough team to play against as well."
"We gotta use the momentum we picked up in the last two periods of today's game and roll with that into Saturday," Tyler Plante said after the game.
Chris Taylor talked about the next game saying, "We need to play five on five, keep the forward lines rolling and we'll be a much better team."
The team has said the same thing all season after Friday night games.  Only time will tell if they'll ever learn from their continued mistakes.  As Chris Taylor said, it's a seven game series.  Thursday was not what everyone wanted but there's still a lot of hockey to be played.  As I said above it's not like the Heat completely walked away with the game, the Amerks can beat this team and will do that on Saturday night.
————–
Abbotsford Heat 3 At Rochester Americans 2 – Status: Final
Apr 15, 2010 – Blue Cross Arena
Abbotsford 3 0 0 – 3
Rochester 1 0 1 – 2
1st Period-1, Abbotsford, Seabrook 1 (Murray, Rheault), 0:35. 2, Abbotsford, Weller 1 (Spurgeon, Kronwall), 8:16 (pp). 3, Rochester, Henry 1 (Mink, York), 15:32 (pp). 4, Abbotsford, Seabrook 2 (Kronwall, Wahl), 18:17 (pp). Penalties-Stuart Abb (boarding), 2:10; MacIntyre Rch (slashing), 7:00; Backlund Abb (roughing), 9:41; Duco Rch (roughing), 9:41; Matthias Rch (roughing), 9:41; Roy Rch (delay of game), 11:09; Lammers Abb (hooking), 15:01; Mink Rch (elbowing), 16:17; Wilson Rch (high-sticking), 18:09; Stuart Abb (interference), 18:53.
2nd Period- No Scoring.Penalties-Baldwin Abb (cross-checking), 6:33; Palin Abb (hooking), 8:45; Taylor Rch (high-sticking), 13:16; Weller Abb (goaltender interference), 13:35; Ellerby Rch (tripping), 15:37; Cunning Abb (diving), 17:06.
3rd Period-5, Rochester, York 1 (Mink, Garrison), 19:33 (pp). Penalties-Wilson Rch (hooking), 3:50; Hudson Rch (high-sticking), 7:43; Henry Rch (tripping), 10:18; Taffe Rch (elbowing), 16:58; Stuart Abb (slashing), 19:01.
Shots on Goal-Abbotsford 9-13-7-29. Rochester 11-11-10-32.
Power Play Opportunities-Abbotsford 2 of 11; Rochester 2 of 8.
Goalies-Abbotsford, Shantz 1-0-0 (32 shots-30 saves). Rochester, Salak 0-1-0 (9 shots-6 saves); Plante 0-0-0 (20 shots-20 saves).
A-2,296
Referees-Jamie Koharski (84).
Linesmen-Derek Sylvester (76), Fraser McIntyre (94).