We're a five days into free agency and it appears as if the Buffalo Sabres have made their first signing that will have a direct impact on the Rochester Americans roster.  Word has just come out via Scott Radley of the Hamilton Spectator @radleyatthespec that the Buffalo Sabres have signed goalie Drew MacIntyre.
Amerks fans will know MacIntyre from seeing him play for the Hamilton Bulldogs, Chicago Wolves, Manitoba Moose and Grand Rapids Griffins. Â In his professional career he has always had winning seasons and has been one of those goalies you knew would be a challenge playing against.
The Amerks will now be set with two solid goaltenders in the lineup with Drew MacIntyre and David Leggio. Â With this news it also appears as if the Sabres will be keeping Enroth in the NHL to backup Ryan Miller.
Last season in 20 games with the Wolves MacIntyre went 12-5-1 with a 2.91 GAA and 0.906 save percentage. After being traded from the Thrashers to Canadians he played in 21 games with the Hamilton Bulldogs and went 12-6-2 with a 1.89 GAA and 0.938 save percentage.
Now that the goaltending situation is locked up it's time to add some scoring to the Amerks lineup!
It feels great to be talking about news in July that has real meaning instead of trying to fake it like in years past. Â Instead of hearing about our team suffering a huge loss it's nice to see it written about another team.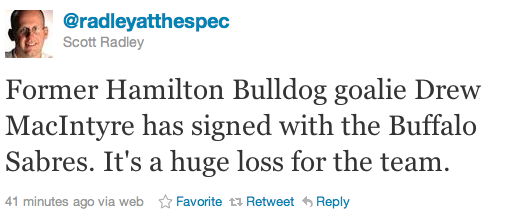 Click here for the rest of MacIntyre's stats below.
Is it October yet?