Corey Tropp created an instant highlight reel moment for scoring his first National Hockey League goal at 9:16 of the first period and also receiving a classic Rick Jeanneret call on the play. Â Jeanneret bellowed out, "Rookie time rookie time Corey Tropp guns it home, Buffalo has tied it at two." Â The goal was also an important part of the Sabres win against the Jets in overtime, final score was 6-5.
Asked about the gold helmet that Tropp is seen wearing in this picture he said, "They put it on for me.. hopefully I can wear it once more this season or another time in my career."
The helmet usually doesn't have a visor on it but someone had one added to it for Tropp.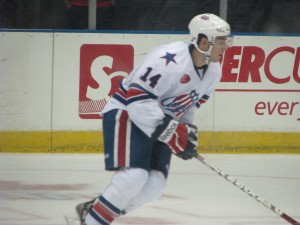 The journey for Tropp started Friday morning after the Rochester Americans skate when he was told that he wasn't going to get on the bus with the team to Binghamton. Â News had come down that Patrick Kaleta was involved in a disciplinary hearing for that head butt and that he was likely facing a suspension so another player would be needed.
After Amerks practice last Friday morning Tropp said, "They told me that there was a possibility depending on the hearing and depending what happened with Patty."
Drew MacIntyre had stayed in Rochester that afternoon and was going to be driving down to Binghamton so if Corey didn't get the call he had someone to drive down with to catch up with the Amerks. Â If he did get the call he was headed the opposite direction to join the Buffalo Sabres. Â From there it was just a waiting game.
I asked him if he was staring at his phone all morning and Tropp replied, "IÂ think I looked at it about 100 times in 15 minutes."
"I was laughing because for some reason it didn't ring and up popped up a voice mail from Amerks Coach Ron Rolston and I didn't see it for about 25 mins so I'm standing there thinking whats going on," Tropp added on. Â "While I was waiting I refreshed NHL.com and it popped up before I got the call so I kind of had an idea before they called."
Being the first player call up is something that Tropp earned in his first 10 games of the season with the Amerks scoring four goals and adding three assists. Â Getting the call isn't based on just stats though. Â Everyone is being watched and monitored and reported on after every game. Â I had asked Amerks Coach Ron Rolston about the process and he said, "They call and they ask for who we feel is playing well and will fill a certain spot that they need and we'll give them suggestions."
He plays the right side.  He's feisty.  He's willing to battle for the puck.  Perfect replacement for Patrick Kaleta.
Rolston had added, "He's a player that can be on your first three lines or can be on your fourth line because he's so competitive."
This was Tropp's third National Hockey League game and second in front of the home town crowd in Buffalo. Â He played well in the first two games but didn't manage to get any shots off on net. Â On Tuesday night he was able to get two shots, the first one was stopped but the second one, his own rebound, went into the net to tie the game 2-2.
Going to the front of the net is something that Tropp has been working on while with the Amerks to start the season.  "In rochester they're always stressing stopping in front of the net and making sure you're ready for pucks and cleaning up the garbage there.. I just kept whacking at it and it found its way to the back of the net."
Paul Gaustad got the play in motion battling for the puck along the boards against Johnny Oduya of the Jets as the puck went down the ice. Â Nathan Gerbe was there to pick up the free puck and feed a back hand to Corey Tropp at the front of the net. Â Tropp was in perfect position to grab the puck and bury it into the net past Ondrej Pavelec on the rebound.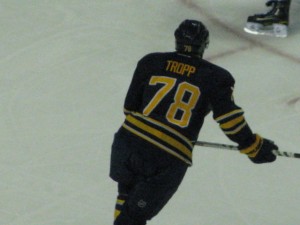 I asked Nathan Gerbe who had the first assist on the goal if he saw or heard Tropp calling for the puck and Gerbe said, "He was talking.. Paul went in hard and I just tried to get it and to the front of the net because thats where he was driving.  He made a really good play on that to stick with the rebound."
"I was just yelling net. Â He's a skilled player and he had a good lane to the net so I was just yelling for it," Tropp said. Â "It hit me dead on the tape and I got the first one off and stuck with it and was able to find the back of the net."
It's a team sport and hockey players are quick to give praise to those around them, especially the rookies.  Tropp added, "It was a great play by my line mates, Goose and Gerbe on the forecheck.  They're one of the big reasons that goal happened."
It'll probably take a day or two for the experience to really sink in.  A great accomplishment in front of a sold out crowd and on a night that also saw Rick Jeanneret and Dale Hawerchuk inducted into the Buffalo Sabres Hall of Fame.
"It went to the back of the net and I just kind of turned and a swarm of guys were there," he said. Â "I just blacked out for a hot minute… I'll look back at it in a day or two and just say wow."
The goal also earned him a classic call from Jeanneret on the broadcast mentioned in the opening, "Rookie time rookie time Corey Tropp guns it home, Buffalo has tied it at two."
Paul Gaustad went and retrieved the puck for Tropp after it was scored to make sure he got it. Â Unfortunately I didn't get the chance to talk to Goose and ask about it. Â Tropp joked that he'll see if his roommate "Big Joe" (Joe Finley) has room for it somewhere.
Watch the goal:
Halfway through the second period Tropp made his prescence known again dropping Brett Festerling of the Jets along the boards with a great hit as Festerline tried to play the puck. Â At six feet tall and 185 pounds Tropp isn't a giant in any way but he's listening to the coaches and playing like they advise him.
"The coaches are always stressing skating through guys and make sure the puck doesnt come back your way," Tropp said about that play.
Mission accomplished.
Lindy Ruff acknowledged Tropp's goal in the post game press conference saying, "He's really played well. Â He works hard. Â He had a great opportunity to the net and also the rebound opportunity. Â He's supplying real good energy for us, he's been in and around the net and he's done a great job with pucks down low and that's with the limited ice time he's had.. so kudo's to him for playing as well as he has for his first couple of games."
The Buffalo Sabres won the game 6-5 in overtime thanks to Thomas Vanek tipping in a Jason Pominville shot. Â Buffalo scored two of their three goals on the power play, including the game winner in overtime.
Tropp said that the win was obviously great and he added, "To score and the team loses it kind of defeats it but it's great to get the first one out of the way and get a win here"
The goal also sparked a lot of great tweets, here's two of them:
[blackbirdpie url="http://twitter.com/#!/SabresTPegs8264/status/134086191476772864″]
[blackbirdpie url="http://twitter.com/#!/aristeia/status/134089542964752385″]
Once Patrick Kaleta's suspension is over with on Friday there's good reason to believe that Tropp will be sent back to the Rochester Americans. Â The Sabres won't need him and they'll also continue to have salary cap issues to keep an eye on. Â Tropp has made an impression though and shown he can fit into the lineup.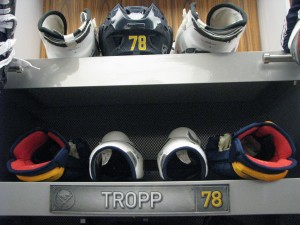 Asked about what it means to participate on the scoreboard Tropp said, "That's your goal every night, to contribute. Â Whether it's finishing your checks or just bringing something to the table every night to help the team. Â It's just nice to contribute and hopefully we keep winning and i can continue to chip in a little bit."
"It's a great accomplishment, it means he's doing something right," Nathan Gerbe said about Tropp's first goal.  "He's played well since he's been here and to get his first goal out of the way.. I think it's right off your back and then he can continue playing."
Tropp said, "It was exciting and something you dream of as a kid to score in this league. Â It's something I'll remember for a long time to come."
****
It was a night of many Rochester Americans alumni on the ice for the game. Â Not only players in Buffalo Sabres sweaters but also for the Winnipeg Jets. Â Tanner Glass played a significant role in the first goal of the game feeding a perfect pass from the boards to Mark Flood at center ice who buried it glove side on Ryan Miller. Â Glas also got into a great scrap with Cody McCormick half way through the second period (video below). Â Kenndal McArdle was in the lineup but barely made an impact. Â Chris Thornburn is also playing for the Jets and made some good plays on the penalty kill.
Here's that Tanner Glass vs Cody McCormick fight:
****
I went to the Sabres game to watch Corey Tropp and write about his call up from the Amerks and it turned out to be a great opportunity to see him score his first NHL goal. Â Special thanks to the Buffalo Sabres as well for their "blogger policy" and allowing me to cover the game as a member of the press.
Please "Like" Let's Go Amerks at Facebook.com/LetsGoAmerks and follow at Twitter.com/LetsGoAmerks