The big news out of the Buffalo Sabres on Monday is that they have signed defenseman Joe Finley to a three year two way contract making an NHL salary of $525,000. Â He came to training camp on a tryout and has now signed a National Hockey League contract with the Buffalo Sabres. Â A pretty good story for a guy determined to prove he still has a career ahead of him.
Finley was drafted 27th overall in the first round of the 2005 NHL Entry Draft. Â If you were to just look at his stats you might think he's a first round bust but he's far from that. Â Two other former Amerks were drafted in the first round of the 2005 draft, Marek Zagrapan by the Buffalo Sabres and Kenndal McArdle by the Florida Panthers.
At 6'8″ tall Finley plays a strong defensive game, is very dependable, rarely gets caught out of position and is successful at keeping the front of the net cleared.  Because of his size he has a very long reach and on top of that is one of the best skaters on the team.  He's a shut down defenseman whose game has excelled since being paired with Shaone Morrisonn.  StephanieZD on Twitter said it best saying, "He's just physical enough to match his size without being a complete goon."
During his college days he had a couple of incidents as you'll read below involving throwing a lawn mower and slashing a mascot. Â Sounds like typical days in college to me!
Something that IÂ wrote after a game earlier in November against the Grand Rapids Griffins:
Late in the second period Joe Finley looked like a WWE wrestler when he shoved Brendan Smith of the Griffins into the goal post as if it was a ring post. Â The net went flying and Finley went to the box for roughing. Â A strong physical defenseman not afraid to move bodies in front of the net, a type of player that has been missing for years around here.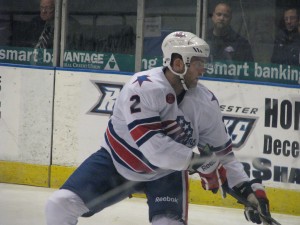 He's not going to be the power play quarterback from the blue line and he also doesn't have a big shot from the blue line. Â I had said to someone the other night, "imagine if Joe Finley had a slap shot like Jason Garrison." Â That's alright that he doesn't have it, he doesn't need it. Â Doesn't mean he can't score though. Â He scored his first goal of the season on November 18th against the Toronto Marlies with a shot from the top of the face off circle.
Another question people have asked, how come he's 24yrs old, a former first round pick and has played more games in the ECHL than anywhere else? Â Easy answer, a couple of injuries. Â These aren't Tim Connolly like injuries though. Â He's not "injury prone" like many players have become known for being. Â Finley rarely missed a game during four years at the University of North Dakota. Â More on the injuries below.
Here's what I wrote on September 30th during training camp about Finley (which still holds true):
Joe Finley is one player that will be playing, he's here on a tryout and trying to earn a contract.  Finley had been skating with the Sabres in Minnesota over the summer and asked for a spot in training camp.  He was drafted in the 1st round (27th overall) of the 2005 NHL Entry Draft but injuries have held him back.

I asked Ron Rolston about Finley and he said, "Joe came in and really impressed a lot of people there (in Buffalo).  The way he moves, his size, it's the first thing you see."  He continued, "Watch him skate and his hands, he has a lot of things there.  He wasn't put into any game situations, playing will give him that opportunity to show this is the place to play."

Finley only has eight American Hockey League games on his resume but when it's time to pick who stays and who goes that's not something looked at.  The coaching staff will be looking at who has earned a spot on the roster.  With Shaone Morrisonn, Dennis Persson, Drew Schiestel, T.J. Brennan, Nick Crawford and Alex Biega practically assured spots on the roster it only leaves two openings for the last four defensemen.  Finley will be playing to take a position away from Corey Fienhage, Matt MacKenzie and Brayden McNabb.

Showing the true spirit of the Buffalo Sabres organization (not trying to rush players to the NHL but to develop them) Rolston said, "Finley needs an organization to really put some faith in him and give him an opportunity.  We wanted to give him that opportunity.  He's a great person in the room and a great teammate."

One of the things I've noticed in watching Finley at training camp is the way he can skate for being 6'8″ and also easily push the offensive player off of the puck.  That strong defenseman who can skate is something that's been missing from recent lineups.
The Buffalo Sabres told him to show up healthy and in good shape and to show them what he had. Â He did just that and has been impressive since.
Finley was a healthy scratch the first game of the season for the Amerks due to the depth and him being the new guy. Â Injuries have been an obstacle for Finley up until this point in his career and now it was the injuries of others that helped him move up the rankings quickly. Â Drew Schiestel was injured in the first game of the season and went on to miss eight games. Â Dennis Persson was injured in the first week of practice and has since missed 19 games.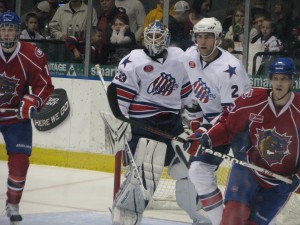 He still had to prove himself though and earn ice time. Â He started at the bottom of defensive pairings. Â He moved up to play on the wing as well when he was needed. Â It may have been a coincidence or the chemistry that his defensive game really took off when he was paired with Shaone Morrisonn. Â Since then the two of them have been the top two defensemen on this Amerks team. Â During his short time with the Hershey Bears he had the chance to play alongside another NHL defensemen, Sheldon Souray.
It was only a matter of time before Darcy Regier and the Buffalo Sabres took notice and locked Finley up with a contract. Â There isn't a bad thing you can say about the attitude that Finley has or the way that he plays.
His time in Hershey was limited due to so much depth and then the injuries once he was sent down. Â The depth of players ahead of him as prospects was similar to this season with the Amerks but injuries of others have helped him move up, something he wasn't fortunate enough to have happen to others in Hershey, instead it was him that was injured.
The 2009/2010 season ended early for him due to a ruptured artery in his hand, here's more on that wrist injury from the Post and Courier:
"I put my stick up to protect myself, to kind of cross-check him as he was coming at me, something I've done 10,000 times during my life, and the stick jammed into my hand," Finley said. "It didn't hurt that much. There was some pain, but nothing major. I kept on playing."

But when Finley got back to the Stingrays bench, he noticed that his fingers had turned white. Finley had crushed an artery in his hand.

"The nerve that feeds blood to his fingers had been completely crushed," said Stingrays trainer D.J. Church. "His stick got jammed into his hand when he got hit, so no blood was getting to his fingers. That's why they turned white. It's not a common injury."

After several visits, doctors finally determined that Finley would need a graft to repair the artery. That meant that Finley would have to wear an arm-length cast for three months and miss the rest of the season.

"I couldn't hold anything in my hand," Finley said. "It was a long three months."
The injury set him back in terms of playing time but he made the best of it off the ice. Â He worked on his conditioning and got himself into better shape physically and mentally. Â The other injury that has held him back early in his career was a knee injury. Â There isn't much to be found about the injury but it's not something of concern for anyone.
Something completely unrelated to his play on the ice but funny is this story of him being arrested in Grand Forks:
It seems Finley and former UND Fighting Sioux teammate Matt Frattin were celebrating in a unique way at one of their homes.  The police report states that the two were throwing cups, plates, a kitchen table and a lawnmower onto the street.  Traffic on the road had to be redirected until street cleaners were able to clean it up.

And who said there's nothing to do in North Dakota?

Perhaps their biggest mistake was not cooperating with police when they arrived to question them on their behavior.  UND Police Lt. Dan Lund said that when he approached them, they ran away.  Finley made the wise decision to stop when told, however Frattin continued to run into the house which led police to charge him with fleeing an officer.

Finley then proceeded to make his second mistake by presenting a false ID.  He was later charged with giving false information to officers.
A LAWNMOWER? Â A kitchen table? Â The street was shut down? Â Sounds like they were having a fun night and only getting started before the police showed up!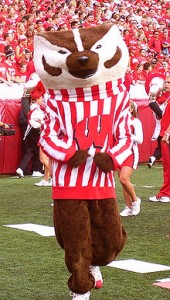 An incident with Bucky Badger:
But while Big Joe may have been done, um, badgering Turris, his weekend wasn't quite complete. After the second game, Finley apparently went Jeff Gillooly on UW's mascot:

"[A] UW official confirmed that Finley allegedly used his stick to smack Bucky Badger in the leg when the two passed one another on the runway to the dressing rooms Saturday night."

Beating up on a future NHL superstar is one thing, but Finley had better be careful or he might just find himself with the last thing anyone needs -Â a pissed offSandra Oh.
Finley had to write a letter of apology to Bucky Badger after this incident. Â That's not a joke either, he had to write one. Â No word on how many letters it had to be.
The guy throws lawn mowers and attacks mascots along with playing great defense. Â Awesome.
Back to the fighting thing, he's a heavyweight  but isn't going out there looking for a boxing match.  He'll use his size and will drop his gloves but that's not what his game is about.  The days of the dedicated goon are over in professional hockey so Finley has worked at becoming the strong defenseman he is today.  Here's a couple of fight videos and as you'll see he's not going to stand still exchanging punches, he's going to go out and overpower his opponent the best he can to win the fight.
November 26th vs Zack Fitzgerald of the Hamilton Bulldogs:
Versus Tim Conboy after Conboy took Travis Turnbull out with a hit:
And against former American Hockey League blockhead Jon Mirasty:
Just do a YouTube search on the guy and you'll find more videos. Â All of us Amerks fans have been talking up Joe Finley and the fact that the Buffalo Sabres signed him to a coveted NHL contract is proof that the Sabres have seen the same things we've seen. Â This will likely create even more friendly competition between Finley, TJ Brennan, Brayden McNabb and every other defensemen on the roster looking to make the jump (or even keep their jobs in Buffalo).