After 5pm on Wednesday evening the Buffalo Sabres gave Joe Finley a call and let him know he was being called up from the Rochester Americans to the show just two days after signing an NHL contract with the team.  Jordan Leopold was injured Tuesday night which created an opening for Big Joe to get called up.  That's when the trend #LegendofJoeFinley thanks to @LeopoldsIpod started in Twitter (A stick tap is also in order for @Philbbg who started #LegendofZackKassian that all of this really spawned off of).  The hashtag was a trend all evening in Buffalo and his last name was a trend all night in Rochester as well which adds even more to the.. legen… wait for it… dary status of him as a hockey player.  Barney Stinson is proud.
Finley has been talked about by everyone who's been going to Rochester Americans games this season. Â We've all been impressed by the guy in just about every game played. Â You can read my article from Tuesday (Big Joe Finley Strong on Defense) about how he plays and his past which includes everything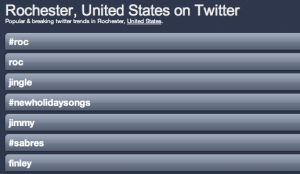 from coming back from injuries, throwing lawn mowers and hitting Bucky the Badger. Â It's fascinating how he went from pretty much an unknown invite to training camp to a local trending topic.
Finley has certainly earned the NHL contract that he signed. Â An NHL contract isn't something that's just handed to a player that arrived at training camp on an invite, it's something earned. Â We've been paying attention to Finley here in Rochester and once he was signed the interest of Sabres fans peaked.
The Buffalo Sabres and Rochester Americans have been partnered again for less than six months and the mix of players, coaches, wins and fans has brought back the atmosphere and discussions like this off the ice that have been missing for the past five plus years (since the lockout year really).
If you're not "into Twitter" this may all sound rather silly but it's just a group of people hanging out having conversations.
And that brings us to the great #LegendofJoeFinley trend. Â Here's only a small handful of Tweets featuring the hashtag, if you find these amusing you need to click through and even add your own.
[blackbirdpie url="http://twitter.com/#!/LeopoldsIpod/status/142023006091358208″]
[blackbirdpie url="http://twitter.com/#!/JustPlainT/status/142073630107508736″]
[blackbirdpie url="http://twitter.com/#!/LetsGoAmerks/status/142062443949076481″]
[blackbirdpie url="http://twitter.com/#!/MW1NT/status/142061625434836992″]
[blackbirdpie url="http://twitter.com/#!/matt_logue/status/142068972068683776″]
[blackbirdpie url="http://twitter.com/#!/sloheim/status/142082741524103168″]
[blackbirdpie url="http://twitter.com/#!/LegenDARROW/status/142082843827384320″]
[blackbirdpie url="http://twitter.com/#!/TheLaserZamboni/status/142086959697899520″]
[blackbirdpie url="http://twitter.com/#!/DUI_Defender/status/142097633647923201″]
That's only a few randomly picked. Â  Click through to read the rest…
http://twitter.com/#!/search/realtime/%23LegendofJoeFinley
Now it's up to Big Joe Finley on Friday night against the Detroit Red Wings to live up to his legendary status. Â I expect to see pictures of a Legend of Joe Finley sign hanging at the First Niagara Center.
Oh yea, Paul Szczechura was sent back to the Amerks on Wednesday. Â How long he stays? Â We'll have to wait and see.