It feels like just yesterday I had written up a first quarter report card but it was nearly two months ago and here we are today halfway through the 2011-2012 season. Â After 38 games played the Amerks are currently sitting in ninth place in the Western Conference and one point behind the eighth and final playoff spot. Â There are eight teams ahead of them in standings and seven of those teams have at least one if not more games in hand giving the Amerks some room to gain some ground. Â The Amerks have continued to hold on to second place in the North Division but due to the new playoff format that does not mean a thing.
Overall there's finally reason to be optimistic about the second half of the season. Â The team continues to mature and plays it's hearts out. Â They do everything they can. Â They're proud to wear the Amerks crest. Â In order for the team to start making a run to solidify a playoff spot they'll have to remain healthy, continue to play consistent hockey and also rely on players being sent back by the Buffalo Sabres.
I talked to Paul Szczechura and Derek Whitmore after a practice recently about the character of the team and where it comes from.  They both talked about the dedication to the team and the work ethic that exists in all of the players.  The team never thinks that they're out of games and the success comes from that common work ethic.  Part of that is from the coaching staff and the rest is the guys in the room putting forth the effort.  The coaches give guidance and a game plan but it's up to the team to play on the ice.
Even though the Amerks have stayed steady in the standings they haven't fallen which can be seen as a postive sign.  Instead of thinking about what this team lacks we can talk about the progression and maturity.  Since day one it has been discussed how some players probably didn't deserve a roster spot on an AHL team but due to a number of reasons they were given one.  The team has continued to find themselves and mature into players that can likely stick around.  Paul Szczechura talked about how midseason is the "grind of the season" and it's time  for everyone to keep their heads in it and pick things up and not fall down.
When taking to Whitmore about the coaching staff he gave tremendous praise to Chris Taylor and Jay McKee for the contributions they've made to everyone on the team. Â I asked if every once in a while they nudge them and try to convince them to suit up. Â Whitmore laughed but also said "everyone knows that Tails can still play the game pretty good."
There's a great chemistry that continues to exist in the locker room with everyone on the same page on and off of the ice. Â If someone makes a mistake on the ice they accept it and move on. Â If someone gets run over or pushed around someone else stands up to come to their defense. Â It's a trait you hear about from every successful team.
Looking back, just about everything else that I wrote in November is holding true today, "The position of the Amerks at this point of the season is something that was expected but it's also something that should be of concern.  This group of players is out there working hard but overall are short on offensive depth to give them that scoring threat against other teams."
Top 5 scorers:
Derek Whitmore (15G-9A-24Pts)
Phil Varone (5G-17A-22Pts)
Marcus Foligno (12G-9A-21Pts)
Mark Voakes (5G-15A-20Pts)
Zack Kassian (9G-9A-18Pts)
Not a bad point total for rookie Zack Kassian who's only played in 22 of 38 games!
Evan Rankin isn't on that list because of games played but he's been a bright spot in the second quarter of the season. Â In 13 games played Rankin scored seven goals and assisted on five others for 12 points. Â It's not easy to find an ECHL player to come in and score but Rankin has and will continue to be a big part of the team.
Scoring is always an issue for just about every hockey team that exists but a new concern is in the air with the state of the defense. Â Going into the 39th game of the season the Amerks are without Shaone Morrisonn, TJ Brennan, Joe Finley and Brayden McNabb. Â Morrisonn will be back after his three game suspension but three games without him could be a game changer. Â Brennan and Finley should be back once the Sabres return to full strength but the moves disrupt the flow of the game. Â Brayden McNabb is out indefinitely with what sounds like a pretty severe concussion.
In the first quarter report card I wrote it in a "plus/minus" format due to it being early in the season with a lot of good things with a contrast of some of the negative. Â One of the minuses that I wrote was that neither goaltender was really "stealing" a game for a win. Â That seems to have changed over the past 10 games with Leggio winning four of those games but also facing a lot of shots in the losses. Â Over the past four games Leggio has made 165 saves. Â For the Amerks to be successful with a light defense he'll have to continue to play at the top of his game.
First Quarter Standings: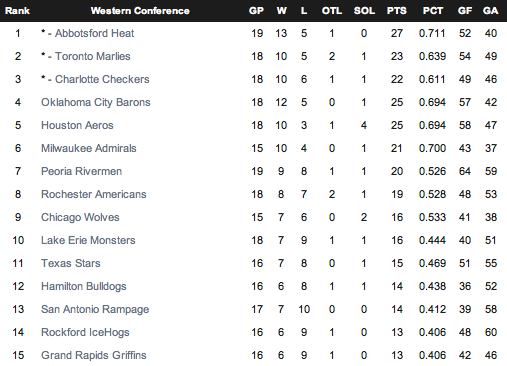 Second Half Standings: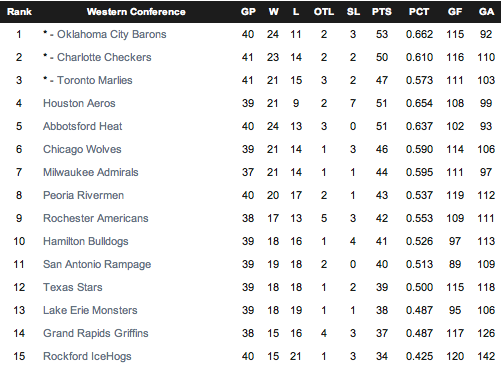 There's 38 games to be played in the remainder of the season and every team in the bottom half of the standings still has a chance to rise to the top.  The playoffs aren't decided in November or mid January but the outcome of the games can certainly make a difference.  The Amerks have an advantage with 20 of the remaining 38 games on home ice.  They're 11-5-1-1 on home ice and 6-8-4-2 when on the road.
Other good things:
The coaching staff continues to do a great job keeping the team motivated and focused on each and every game through injuries and call ups.
Michael Ryan is finally expected back in the lineup and a healthy Michael Ryan is a positive to any team. Â If he remains healthy he'll be a leader on the ice with his skating ability and scoring touch.
At the quarter mark I said that McNabb, Kassian, Foligno and Finley would all be called up and they all have been.
A few minor minuses:
The lack of natural goal scorers. Â It's what every team dreams of having. Â There's still a lack of guys that can be counted on to score those important goals during close games. Â It's a third period team that doesn't quit which is awesome but it makes for very close games.
Four players that could provide a big boost with secondary scoring are: Travis Turnbull 4G+6A in 29 games.  Shawn Szydlowski has 0G+8A in 29 games.  Maxime Legault has 3G+2A in 27 games.  Jonathan Parker has 2G+3A in 27 games.  Turnbull and Legault bring a different physical element to that game compared to Szydlowski and Parker but scoring from all four would be an improvement.
Zack Kassian has been back for four games and he's been a different player in four of those. Â In his first two games he was a beast all over the ice putting up two goals and two assists. Â In the next two games he was practically invisible. Â The inconsistency is a reason the Sabres sent him back down. Â Kassian at the top of his game is a player that teams will hate to play against. Â He's still a rookie and finding his game.
The powerplay is ranked 21st out of 30 teams and the penalty kill is 22nd out of 30 teams. Â The special teams needs more success to take full advantage of every situation. Â That's self explanatory. Â It again comes down to scoring.
The next 19 games will be the time for everyone to play with the same passion they've had and step it up.  Assuming that happens there'll continue to be reasons for fans to come and see this team and get behind a post season run.  You can also read my first quarter report card and just about everything written then still holds true today.
The Amerks are home tonight and Friday against the Oklahoma City Barons before playing four road games, two in Grand Rapids and then in Syracuse and Toronto.