It's probably safe to say that every hockey fan in Western New York is tired of hearing about injuries.  The Buffalo Sabres and Rochester Americans are slowly returning to health though and will hopefully stay that way.
For the Amerks, Corey Tropp is set to return on Wednesday morning against the Toronto Marlies. Tropp has been out since early January with his concussion issues. He has missed 10 games since the injury.
Colin Stuart injured his knee while on recall with the Buffalo Sabres in mid December. Since that injury and when he probably would've returned to Rochester the Amerks have been without him for 18 games. Best case scenario is that Stuart returns this Friday but definitely by February 17th assuming he doesn't have a set back.  He has been skating on his own and returned to practice with the Buffalo Sabres today.  Once he's cleared to play he'll be sent back to the Amerks (assuming the Sabres don't have anymore injuries).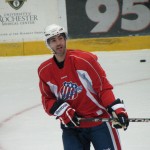 And then there's Michael Ryan. The word is that he'll play on Wednesday morning as well. We've heard this three or four times already. Ryan has missed 43 games this season with an above the shoulders injury. A healthy Michael Ryan is an asset to the Amerks lineup. I don't think anyone will be holding their breath but will look forward to watching him when he plays.
That leaves the list of injured players down to Evan Rankin and Matt MacKenzie. 
Rankin has been out for the past 15 games with a concussion, click here for the video that caused that injury.  Rankin is expected to return within the next couple of weeks assuming everything goes as planned with his recovery.
MacKenzie has been out for the past 25 games after nearly losing his leg.  For more information on MacKenzie's injury click here.  There's no time frame on MacKenzie's return to playing but the article states he could return to skating this month.
You can always get Amerks injury updates at the following page: