(Special thanks to main contributor – Jason Bonno)
The long hockey offseason is finally ending and the Rochester Americans are preparing to open the season Friday night against their longtime rivals, the Syracuse Crunch. It's been an interesting offseason, to say the least, as the NHL has locked out its players. For Amerks fans, however, this means being able to watch players who otherwise would have made the Buffalo Sabres. Cody Hodgson, acquired in the trade with Zack Kassian at the trade deadline, headlines that group along with Marcus Foligno. Guys like Corey Tropp and Brayden McNabb also had excellent chances to make the Sabres based on training camp play. The offseason also saw the return of former Amerk Mark Mancari, who had somewhat of a rocky past with Amerks fans, but today appears more mature – a better player and someone who is looking to take on a leadership role. Rounding out the well-knowns is the return of Amerks 2011-2012 MVP goalie David Leggio.
The stability the Amerks and the rest of the AHL will have during the lockout without any recalls will help improve the product we see on a nightly basis.
We'll first breakdown the Amerks' forwards by lines, where last year's biggest weakness appears to be this year's biggest strength – centers:
Luke Adam – Cody Hodgson – Corey Tropp
The Amerks top line. Or, possibly, line 1A. All eyes will be on Cody Hodgson as fans will be expecting offensive magic and a player who should look like an NHLer. Hodgson has great vision and an incredibly quick release, making him dangerous anywhere in the offensive zone, especially against AHL defensemen. Luke Adam, who struggled last season after a hot start, will look to regain his 2010-2011 form when he was the AHL's top rookie. Adam's foot speed holds him back, but there's no question he has a nose for the net and a great shot. He needs to use his body effectively and bury opportunities that will no doubt arise with Hodgson passing him the puck. Rounding out the line is the always energetic Corey Tropp. Unlike the others on his line, Tropp loves to fly in on the forecheck and make life very unpleasant for opposing defensemen. But, Tropp has a scoring touch too, as he put up 22 points in 27 games. One thing for Tropp, however, is not to let his temper get the best of him as he has been known to take untimely penalties. Overall, this line has a little of everything. Physicality, vision, smarts and deadly shots.
Marcus Foligno – Kevin Porter – Mark Mancari
The Amerks' 1B line. This line has every bit of chance of putting up just as many, if not more, points than the Hodgson line. Mancari is a perennial top 10 AHL goal scorer and could have the league's best shot. The former Amerk isn't a fast skater, nor does he like to get involved in the physicality of a game, which is why he's not a regular NHLer, but he knows where to be to put himself in position for a scoring chance. Marcus Foligno was dominant from February on last season. Foligno was "okay" the first half of the season, but something must have clicked as he became a force, and a late season sensation with the Sabres. He's looking to build off that and solidify himself as a power forward for years to come. Finally, the captain, Kevin Porter, who is endearing himself to fans already by saying all the right things in the paper. Porter comes to the Amerks with 163 games of NHL experience, spending most of that with the Colorado Avalanche. Porter was more of a 4th line defensive forward in the NHL but the Amerks will be looking for offensive production and a solid two-way game while providing some much needed leadership. History shows Porter is slightly below a PPG AHL player.
Zemgus Girgensons – Phil Varone – Evan Rankin
This line has slightly more uncertainty. Girgensons, the NHL's 14th overall pick this year, will be one of the AHL's youngest players at 18 years old. What he lacks in experience, he certainly makes up for in physicality and willingness. The forward, by all accounts, will do anything necessary on the ice to help his team win. Blocking shots, back-checking, goal scoring, physicality. He'll do it all, but don't expect it right away. The jump from the USHL to the AHL is a large one and he'll need time to adjust. Phil Varone had a monster second half of last season, as he scored at a PPG rate and became one of the Amerks' most dangerous forwards. The center has a great skillset and terrific vision. He's really a sleeper prospect in the Sabres organization. Finally, another second half of the season surprise, Evan Rankin. Rankin was brought in when injuries and call ups hit the Amerks and immediately made a huge impression. The forward takes the puck to the net harder than anyone else and will take a beating to score a goal. Deceptive speed and a physical side as well. Rankin should be primed for a big season and prove why he's now an AHL regular.
Nick Tarnasky – Rick Schofield – Maxime Legault
A true 4th line. This line should make for some unpleasant nights for the opposition. Nick Tarnasky, with 245 NHL games will bring a rough and tough game while defending the Amerk players and prospects. Tarnasky spent last season in Russia's KHL and was a true "goon". This season, expect more of a well rounded game. Amerks fans saw his offensive side as he scored 3 goals in just 5 games in 09-10 during a conditioning stint. Schofield was brought over to the Amerks via the Syracuse Crunch. Amerks fans should remember him as a solid defensive center,who,was good on faceoffs, penalty killing and even contributed some goals (8). Faceoffs and competent penalty killers were not abundant last season; Schofield will be a welcomed addition. Schofield gives the Amerks a true, competent 4th line center. Last, but not least, is Maxime Legault. Legault is a truly underrated forward. One of the hardest hitters in recent memory, Legault speeds into the forecheck faster than anyone and rattles the boards. With him and Tarnasky on the same line, fans will not want to go for a beer or bathroom break when they're on the ice.
Overall, it's a solid group of forwards for the Amerks. It's not as talented as the 04-05 lockout Amerks, who boasted Thomas Vanek, Derek Roy, Chris Taylor and Jason Pominville It lacks proven goal scoring, as Mancari is the only player to consistently score in this league. However, with the skill and potential of the forwards, this could be a high scoring team, especially with the defense being offensive minded.
There is quantity for depth players, but the jury is out on whether there is AHL quality. Riley Boychuck, Jacob Lagace, Jonathan Parker and Shawn Szydlowski certainly didn't make the most of their opportunities last year, and without a specific ECHL team will likely be spread around the lower leagues. If the lockout were to end, I hope that Darcy Regier looks to several quality unsigned AHL free agents first before plugging these fillers in. Kevin Sundher, Brian Flynn and Frederick Roy may also see some time in the ECHL or a lot of the press box here, but should be given a chance to play at the professional level to see what they can do.
On defense, the group is deep and talented. T.J. Brennan challenged the franchise record for goals by a Dman last season, and he isn't alone in being able to move and shoot the puck. Brayden McNabb is on the cusp of the NHL and Big Joe Finley provides a monster physical presence on the blue line. Mark Pysyk is a highly regarded rookie prospect. The corps is rounded out by returnees Alex Biega, Nick Crawford, Matt MacKenzie and Drew Schiestel. The weakness on the blue line could be a lack of a true stay-at-home veteran Dman. Morrisonn may not have been everyone's favorite, but he really provided stability back there for this team last season – and that role has not been replaced. Perhaps rather than resigning a player they loaned out last season (Schiestel) they could have signed a stay at home vet for his spot? Corey Fienhage (already assigned to the ECHL) and injured Jerome Gauthier-Leduc round out the depth – and both should be considered more long term projects.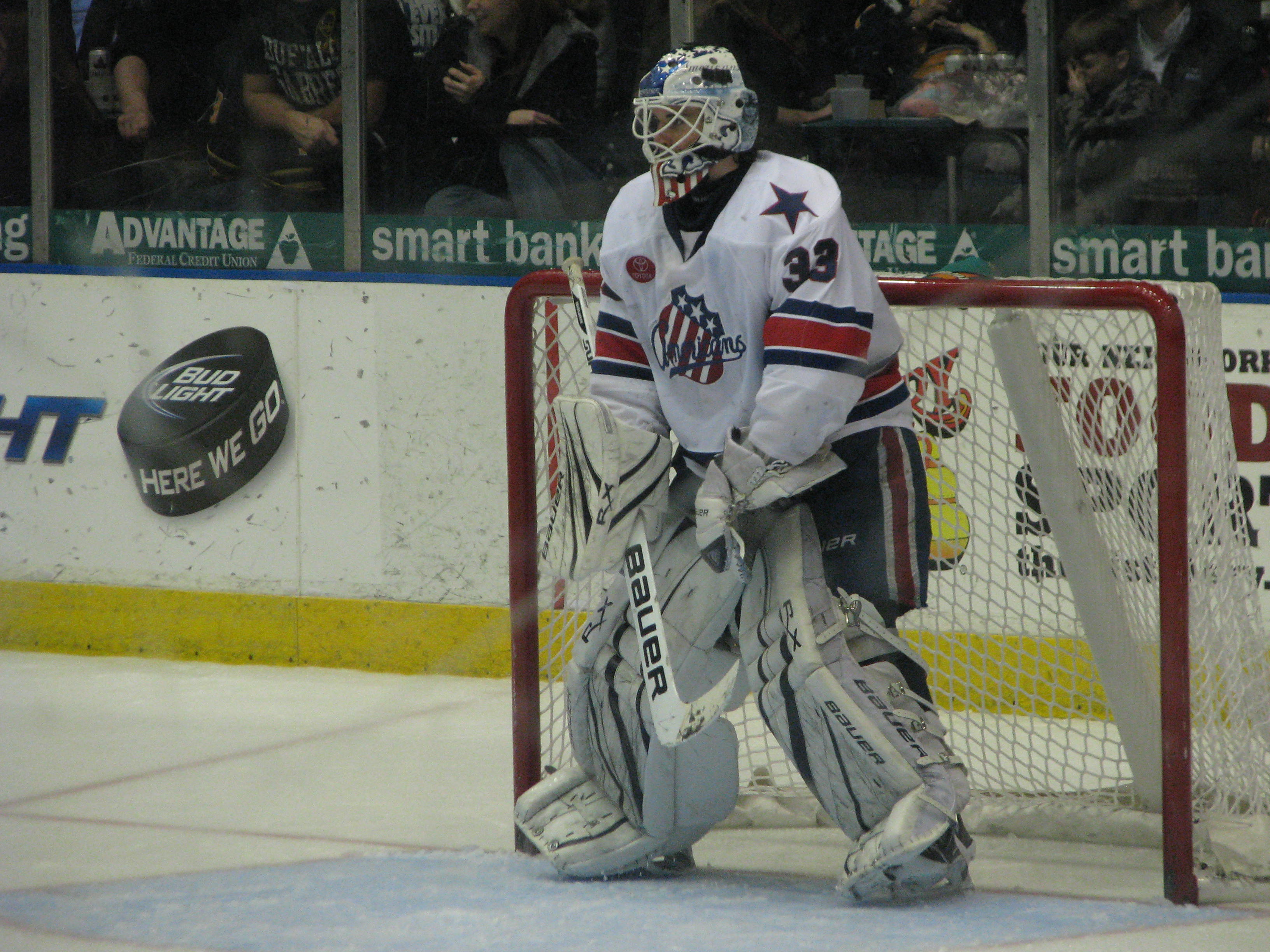 Goaltending will be up to David Leggio it appears. The workhorse MVP returns, but a reliable backup could serve to keep him fresh for the stretch run. Is local boy Connor Knapp up for the job? Based on his preseason performance we hope yes. If Leggio struggles could he become the first prospect goalie to excel since Ryan Miller? Let's hope we don't find that out quite yet. Nathan Lieuwen, assigned to the ECHL, will be our depth – and may perhaps yo-yo a bit with Knapp to keep everyone fresh.
??????Top 12 Question marks??????:
1. Will Leggio rise up to an upgraded league?
2. Is Knapp a legit prospect? We can't have an exhausted Leggio heading into the playoffs again.
3. Is the D too young and offensive?
4. Is there enough AHL quality depth at forward?
5. Has Mancari matured and improved his overall game enough to be a net upgrade over Whitmore, who it feels he essentially replaced.
6. Will the lockout spur attendance (other than a Buffalo bump)?
7. How do other teams compare to the Amerks in lockout enhancement? We know OKC looks tough and that Toronto is loaded.
8. Are we too young? Only two vets and one exempt. We definitely don't need to see as many "men against the boys" nights as last season.
9. What's the plan IF the lockout ends? We lose Foligno, Hodgsons and Tropp and then what? None of the forwards not in our starting lineup are AHL quality. On the other hand, would Ellis and Pardy come down if the lockout were to end? In that case, would we actually be better off by way of adding some experience?
10. Is Evan Rankin for real, or should that spot have been used on a perennial AHL goal scorer?
11. If we run into trouble, or have a need at the trade deadline, will Darcy Regier make a move to bolster the team?
12. Will our playoff series win drought stop at 7?
Key Losses: Szczechura, Whitmore, Stuart, Morrisonn, MacIntyre, Turnbull
Key Additions: Mancari, Porter, Hodgson, Girgensens, Tarnasky
Prediction: 95 points in the regular season and AT LEAST our first playoff series win since the last lockout.
Enjoy the focus being on the Amerks, Rochester!
LETS GO AMERKS!