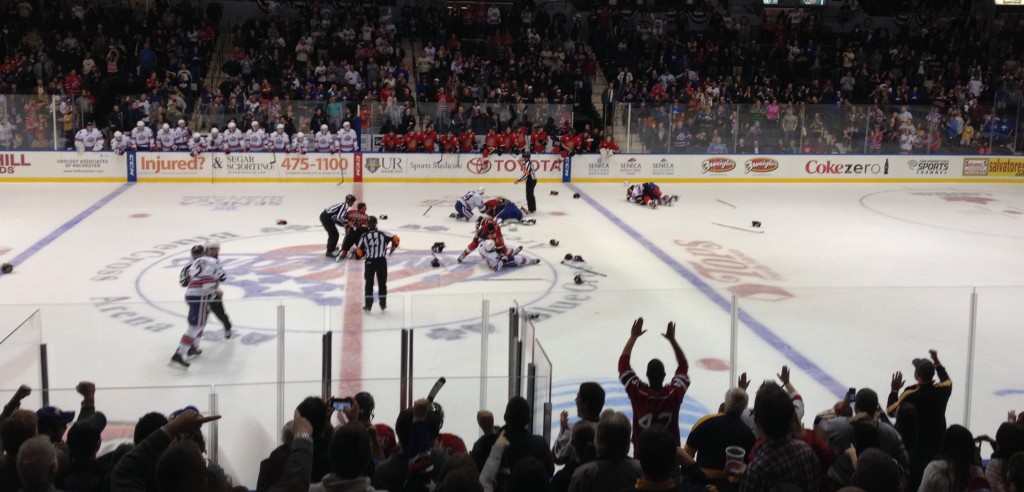 If you missed the 2014-15 Home Opener you missed one of the strongest starts to the season in recent history. The Amerks steamrolled the Flames with a 6-1 victory in a game that had a little bit of everything.
The game started evenly matched and the first period ended scoreless. Goals from Schaller (RCH) and Agostino (ADK) had the 2nd period heading for a tie but the Amerks answered the Flames' increased aggression with goals. Grigorenko and Ruhwedel stuffed in a pair giving the Amerks a 3-1 lead heading into the 3rd. Just 3 minutes into the third Ellis used his NHL experience to bury his own rebound. Ellis' persistence put the Amerks up 4-1. Half-way through the 3rd Armia was pulled down on a breakaway and awarded a penalty shot. He then scored with toe-drag, impossibly patient shot from the goal line (video below). Varone rounded out the 3rd with a late goal. Amerks 6-1.

The real story of the night was a secondary altercation between the Amerks Carrier and Flames Trevor Gillies. Gillies not only jumped Carrier but smashed his face into the ice when Carrier tried to protect himself from the onslaught (video below). Carrier, only 19 and fresh up from juniors, is not a fighter. Gillies is a goon. Virtually banished from the NHL and for good reason.

Gillies' antics would not go unanswered. Late in the 3rd Petrecki showed his teammates what it means to be a team player. Without being directed to do so he lined up at center to take the face-off. Well, not so much take the face-off as to send a message. Petrecki, along with his teammates, started a line-brawl which made it clear to the Flames that they were not going to take the abuse sitting down (video below). Petrecki was like a man possessed doling out quite a beating. Petrecki sent a clear message to competitors: mess with my guys and you'll have to deal with me.

The Amerks closed out their home opener with a strong victory.