After a short warm up skate the second day of Amerks training camp kicked into high gear as players split up into pairings as they worked on moving the puck up and down the ice. Repeatedly.
#Amerks are getting right into things this morning. pic.twitter.com/1ctTBlLgBo

— Let's Go Amerks (@LetsGoAmerks) September 26, 2017
ICYMI, read the day 1 recap here.
Here's how everyone was paired off (not listed in top/bottom order, just how I noted them as they skated). The only player that's been missing from the ice so far is Kevin Porter. We'll try and find out why that is on Wednesday.
Defense:
Barry Goers / Nathan Paetsch
Casey Nelson / Brendan Guhle
Devante Stephens / Andrew MacWilliam
Conor Allen / Arvin Atwal
Anthony Florentino / Brycen Martin
Forwards:
Hudson Fasching / Sahir Gill / Garrett Ross
Stevie Moses / Kyle Criscuolo /Â CJ Smith
Adam Krause / Colin Blackwell / Eric Cornel
Daniel Muzito-Bagenda / Justin Danforth /Â Vaclav Karabacek
Alex Kile / Brandon McNally / Dalton Smith
Goalies:
Adam Wilcox, Jonas Johansson, Jason Kasdorf, Anthony Peters
The coaching staff of Chris Taylor, Gord Dineen and Toby Petersen had there eyes on everyone like hawks paying attention to everyone. There were stick taps and praise as things went well and drills were stopped to offer feedback and to correct mistakes. As the intensity level should have been peaking Chris Taylor brought the group together and made it known that everyone needed to step it up and play harder. There may have been some reluctance to play physical against new teammates but after that talk the tempo changed.
Who stands out? Can't really pinpoint anyone at this time. It's day 2 of training camp. Trying to analyze everyone would just be hype that doesn't mean anything.
Once the main part of practice was over players split up with Gord Dineen working with the defense at one end and Toby Petersen with the forwards at the other side. For those who haven't been to a practice before this is where skills like shooting and passing are worked on without the high intensity.
The centers spent some time at center ice working on face offs..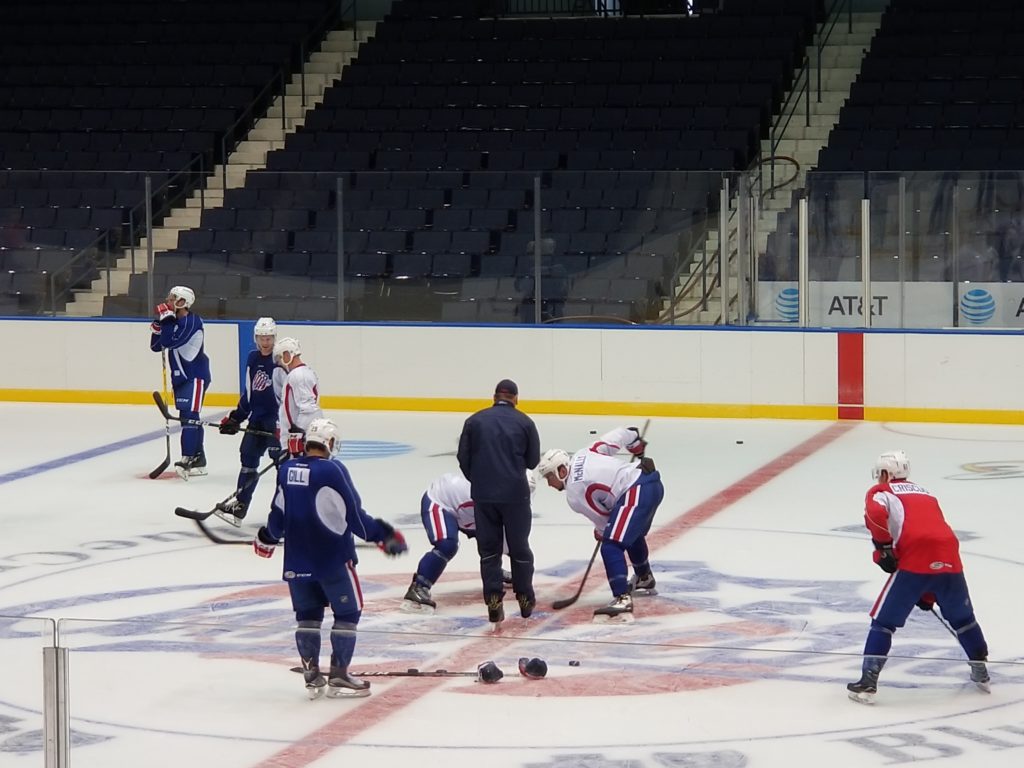 One of the last things they did was play a little game in the center face off circle. Everyone gets a puck and you have to protect your own while eliminating the other guy.
Protect your puck. #Amerks pic.twitter.com/vExHGRf18E

— Let's Go Amerks (@LetsGoAmerks) September 26, 2017
That was it, back at it again on Wednesday! Follow along on Twitter with us @LetsGoAmerks