The Amerks are only 14 games into the season but for those who were here last season they're already aware that this season is different. With the 3-0 win over the Binghamton Devils the Amerks have collected 14 of 18 points going back to October 25 and are 4-0-1-1 to start November. The games haven't all been pretty at times but the team is finding a way.
"Obviously when you have a shutout thats what you're aiming for every night and to be able to get that so quick in the season and not wait 2yrs for it is a huge confidence booster."
He's referring to the fact that he didn't get his first shutout win until the tail end of his second season as an Amerks goaltender. That win was on March 26, 2017. Tonights game was also the 200th professional game for Ullmark.
Ullmark is quick to notice what's different as well. Talking about the team in front of him he said, "Every night they make it a lot easier for me than it has been the last few years. They're sticking to the system. Blocking shots. They're boxing out everything and you can see clearly that they're a very good team in front of me every night."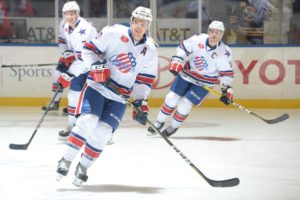 "Its an easy group to get a long with and we have tons of fun off the ice together. We get a long together and it just translates on to the ice and we try to support each other out there," Stuart Percy said. "We're just trying to continue to build that chemistry."
"We had some guys that were new to the lineup and I thought they played a great game as well, a full team effort and a nice win." Referring to Brycen Martin and Devante Stephens who were called up from Cincinnati.
Percy added, "All six defensemen played an exceptional game. We did what we could."
(Both pictures courtesy of the Rochester Americans)
Stuart Percy was signed after the first four games of the season and on Wednesday skated out with an A on his sweater and he's earned it with consistent play. Tonight he had two goals and an assist.
Binghamton took some early penalties in the first period that the Amerks were able to score on. Percy scored at 2:12 and Eric Cornel followed up with another goal at 3:31 of the period.
"On the power play you always want to get scoring opportunities and it was nice that tonight they went in for us, got the team going a bit and we just tried to build on that."
The Binghamton Devils entered the game on a four game losing streak and the Amerks knew they couldn't take them lightly. Even after going down by two in the first four minutes of the game the Devils continued to push forward and had plenty of scoring chances and shots off of posts.
Ullmark commented about that, "I had some lucky bounces too which kind of comes with a team that's winning a lot that you get those lucky bounces."
Chris Taylor mentioned the third period while talking about the confidence within the team, "They're starting to get more confidence in each other and what we're doing and how we're doing it. It wasn't a perfect third period but it was better than what we've had in the last couple of weeks and they protected the lead but we also wanted to go after them and we had scoring chances."
Binghamton put one puck past Linus Ullmark in the third period but it was waived off because the net was off of its moorings. Somehow the net had been pushed off in the Amerks zone and the play went down to the other end without anyone besides Linus Ullmark (and some in the stands) noticing. Binghamton recovered the puck and in an offensive rush and beat Ullmark glove side.
"I tried to call the ref a couple times but I think I only called net instead of net off or something like that," Ullmark said about the play. "I knew right away that it was off. I tried to take the puck obviously but I knew if they scored it wasn't going to be a goal."
Asked whether he was concerned at all he said, "I didn't know what they were going to say. I was a little bit worried."
I don't think he was worried at all.
Here's two screen grabs from the highlight video below. It's easy to see the net was off and there wasn't anyone around.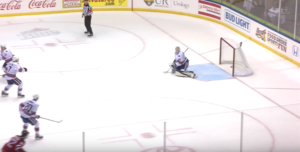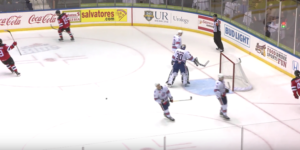 Binghamton pulled their goalie was almost 3 minutes left in the third period but the Amerks limited the number of quality shots they could take. Stuart Percy shot the puck from the left of Ullmark with 94 seconds left and after a good bounce it slid into the empty net. Game over.
"It was a team effort. The confidence level is big but you don't want to get over confident," Taylor said. "We're still a long ways away from how we want to play and there's still a long season left to go."
Amerks are back home on Friday night vs Hartford Wolf Pack.
Game highlights from the Amerks: