Where in the world is Alexander Nylander? That's the question that was asked on an almost daily basis since he was injured on September 8 in a prospects game vs New Jersey Devils.
The initial diagnosis was day to day, which soon turned into week to week, and then he vanished until we spotted him on a Saturday morning on the ice with an Amerks team trainer. Two weeks later and he's going to play in his first game of the regular season tonight.
"It was only supposed to be a couple of day thing but it lingered on," Amerks head coach Chris Taylor said. "He's seen a couple of people and this is what they've told him, stay off it a little bit longer and that's what he's been doing. We just want him for the long term, not for the short term and then hurt again. We want to make sure he's healthy and ready for the whole season."
Nylander was drafted 8th overall in the 2016 draft and with that brings some high expectations along with the family name. In his 2016/2017 rookie season with the Amerks he scored 10 goals, had 28 assists but was also a minus 28. As an 18 year would he have benefited from another year in juniors? Possibly. That's irrelevant now.
With a season of experience on his resume Nylander said, "I feel more comfortable and more confident out there."
Fans may get frustrated not knowing the status of players that can help their teams win and players feel the same way.
"It's been really tough, you want to be out there with your teammates helping them out and of course playing games coming off a hard working summer. I was really looking forward to the season."
Patience had to play a part in things, "I just had to do my rehab well and get back as quick as possible."
"I got to see a lot of games and see how it is," when I asked him what he's thought of the season so far. "I've seen a lot this season, just been watching a lot of games. Its going to help me a little bit more on the ice."
"We started off better this year than last year. We have a good group of guys, everyone's great teammates and looks really good for this year."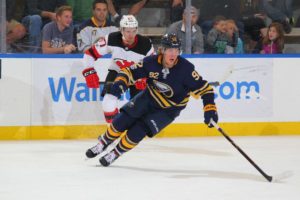 Heading into the start of his season his goals are simple, "Stay healthy, play good when I get back and try and get a spot back up to Buffalo. I think I had a really good opportunity coming in to training camp, unfortunately I got an injury."
"Tough especially for a younger guy that wants to be up there. He wanted to get back," Chris Taylor said about knowing Nylander's goal is to be with the Sabres and the opportunity that was in front of him. "There's a lot of new people in this organization that he wanted to impress so I think thats important to him and he wanted to be up there as badly as possible but this is what he's been dealt and again this is how he's going to deal with it coming back as well. He's been maturing each and every day about it and getting back and he's in great shape."
The Amerks are off to a great start heading into 2nd place in the North Division ahead of tonights game. They've acquired points in eight of the last nine games.
"Winning is our main focus and obviously development is huge here to get people up to Buffalo. We started off well, have really good systems this year and it'll be a good year."
At the end of the 2016/2017 season Nylander had the chance to join his family and watch his brother, William Nylander, in the playoffs with the Toronto Maple Leafs.
He'd like his family to see him the playoffs as well, "The playoffs is one of the main goals this year but first you have to start off game by game winning them step by step."
He skated in warmups on Wednesday night and Taylor jokingly asked the media after the game, "Did he look good in warmups?"
Taylor added, "Its not as easy of a process getting back into the lineup that everyone thinks it is."
Nylander has looked good, the doctors have cleared him, coaches approved. He's finally playing.
"I'm just very happy and excited about tonights game," Nylander said after the morning skate. "I'm going to go out there to play my game and help my teammates out as much as possible."