The first undrafted college player has been signed by the Rochester Americans to an ATO, forward Myles Powell from RIT.
He was one of the teams three captains this season and has been first or second in scoring the last three seasons.
Powell joined the Amerks on Friday morning for his first practice with the team as part of the game day skate. He isn't playing tonight.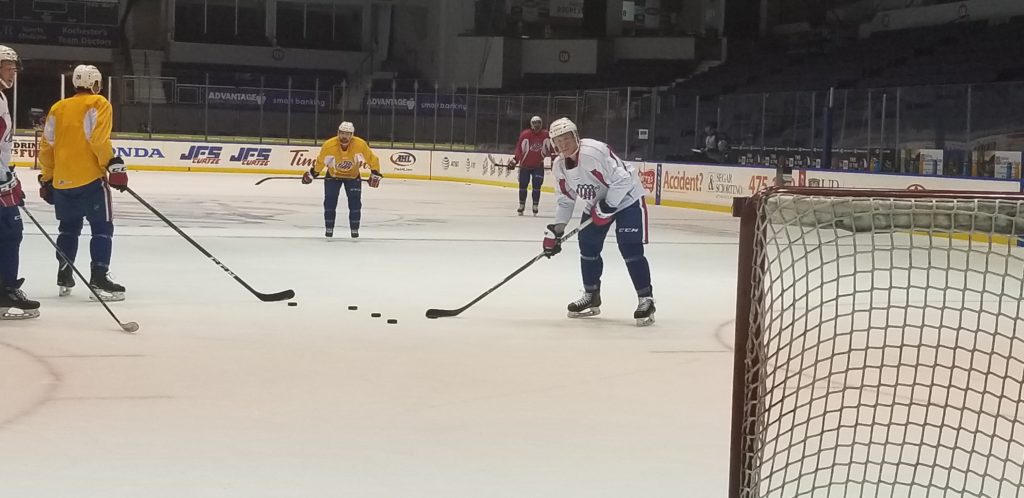 He has played in all 37 games this season with RIT and was second on the team in scoring with 39 points (13G+26A). Also, he had a team high 133 shots and was the only RIT player to score a short handed goal this season as well.
Last season he had a team high 24 points (13G+11A) and a team high 124 shots. Powell also tied a Division I program record by scoring three shorthanded goals, which was tied for fifth nationally.
In 2015/2016 he had a team high 15 goals and was second with 17 assists. He was also named the Atlantic Hockey Championship Tournament Most Valuable Player.
On his RIT profile page he says that his fondest hockey memory is winning the 2015 and 2016 Atlantic Hockey Championships at Blue Cross Arena.
The first college player brought in by Randy Sexton matches the profile of the type of player they're looking for, a leader on a college team, plays in every game and posses a shot mentality.
Powell was one of 74 players initially nominated for the Hobey Baker Award.
This is the second time in the last 4 years an RIT product has been signed for the Amerks. Matt Garbowsky played 24 games across the 2014-2015 and 2015-2016 seasons for the Amerks. He has become a point per game player for Colorado of the ECHL the last 2 seasons.