The City of Rochester is at it again with another band-aid proposed for the Blue Cross Arena. They're now calling it the Exchange St expansion. This one adds on to the existing proposal for new bathrooms and upgrades to the audio visual systems.
On April 23, 2018 the City of Rochester issued a request for proposal for "public lavatory upgrades, visual systems upgrades and audio system upgrades." Today, May 4, 2018, they expanded it to include the Exchange St expansion. The exterior of that expansion is what is in the featured photo. There's also more details included about the existing audio visual equipment and associated costs.
Blue Cross Arena is a City of Rochester problem. The Rochester Americans are the primary tenant and this site is focused on the Rochester Americans but all discussions about the arena should be looked at in terms of the building as a City issue, not just for the Amerks. Other teams and organizations use the facility. There's concerts, graduations and so much more in the building that people need to stop being focused on this as a building just for hockey.
The expansion at Exchange Street would add an extra locker room, expand office space and the only thing that fans would notice on the inside is a 1,437 square foot addition to the concession area. Based on the rendering this will add some tables for people to sit at. Hold back the excitement.
This is another band-aid to an aging building. The City of Rochester needs to explore a new arena instead of piecing together these upgrades. Exploring the idea of a new arena has not happened. If it turns out that it's not feasible they need a master plan vs these pieced together fixes.
This project now includes Part 1 (bathrooms and audio visual systems) and Part 2 (Exchange St expansion) and the City has the intent to bid both of them as one large public bid/construction project. Part 1 has a budget of $3.5 million. There is no budget yet for Part 2. It's listed as "to be determined as design and related estimates are developed."
The original completion date for Part 1 is listed as August 2020, no changes were added for completion of Part 2.
Construction proposal for the exterior of the building without any cost estimates. Who goes into an expansion idea without any cost estimates to propose? Only the City of Rochester. Scroll down for renderings of the expansion at Exchange St.
The proposal says that upgrades to the audio visual systems do not all have to be undertaken at the same time. Make changes as they can be made versus one large project. Again, a band-aid approach.
Talks have gone on for years in regards to upgrades and enhancements to Blue Cross Arena and still nothing has been done. There's a link at the bottom for a full history of what has been talked about.
Here's some more details from the expanded proposal:
Audio systems:
The current PA system is well over a decade old.
Straight from the proposal – "It is assumed that there will be a certain level of device replacement and/or repair needed to bring the system back to its full working capability. The report would also identify whether a full replacement is needed." An assumption can be made here that the current system is not fully functional.
Estimated Costs: Initial Testing – $8,000
Allowance for Speaker Repairs – $70,000
Alternate – Replace entire speaker system in lieu of above – $400,000 to $600,000
New speakers in the suites have an estimated budget of $20,000 to "recommend something more aesthetically pleasing, while simultaneously improving the sound quality" in the 24 suites.
The sound system equipment is all analog, making it difficult to transition between different events. We would suggest replacing the control room equipment with a digital mixer, and replacing the CD players and cassette decks with digital media players. Estimated Cost: $30,000
Yes, that really does say cassette decks in 2018.
Video Systems:
Upgrades to the scoreboard have an estimated cost of $300,000 to $350,000 to reconfigure it as it's in "OK shape." Summarized – moving around the existing low quality panels to be widescreen.
Here's what's in the document:Â The current center hung display is several years old and is a 4:3 format. Any new equipment will utilize a 16:9 format making it difficult to show content accurately. The 16:9 content can be cropped on the left and right hand sides, however the production staff needs to be aware of this for any content that is shot live or pre-produced. The displays are in OK shape and you could consider reconfiguring the existing tiles from all four sides to make two larger 16:9 sides for the primary viewing and supplement the short sides with newer displays.
The video control room and camera replay system has some newer equipment that has been handed down from the KeyBank Center in Buffalo.
The picture provided makes it look like the video systems are still run on tube TV's.
Estimated cost $750,000 to $950,000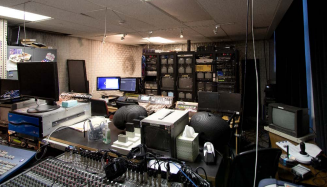 Televisions:
The proposal goes into description for new TV's in the suites, digital menu boards for concessions. There is a current cable TV backbone that can be used but that's outdated and upgrades are recommended.
Estimated Costs: Upgrade existing TVs – $95,000 (based on 30 displays and IPTV headend)
New Suite TVs – $92,000 (1-60", 1-32", and 2-set-top-boxes per suite, x24 suites)
Digital Menu Boards – $35,000-$40,000 (display, mount, set-top-box, 20-24 TVs)
Section 03 mentions "club AV systems" to implement 10-12 large LED backlit LCD displays for in-house production and out of town games from cable or DirecTV. An assumption can be made that these would be the TV's placed within the concourses of the arena.
Estimated Costs: $80,000 – $120,000. That estimated cost of 12 TV's at the low end of $80,000 puts the average price at $6,667. Has anyone advised the City that TV's are pretty cheap in 2018?
Below is a summary of all the suggested upgrades listed within this report. Refer to individual sections above for additional explanations.
Sound Systems
Test existing sound system and repair as necessary – $78,000
Replace speakers in suites – $20,000
Upgrade sound console and playback equipment to digital – $30,000
Wireless microphones – $12,000 to $16,000
Spare amplifiers – $15,000
Digital Signal Processing (DSP) replacement – $46,000
Replacing CRT monitors with LED flatscreens – $3,000
Video Systems
Reconfigure center hung display for 16:9 aspect ratio – $300,000 to $350,000
Video Production Equipment upgrade to HD – $750,000 to $950,000
Cable TV / Digital Signage – $222,000 to $227,000
Club AV system – $80,000 to $120,000
Sound System Alternate
Replace entire sound system – $526,000 to $730,000 (in lieu of all items listed in Sound System above)
First floor plans…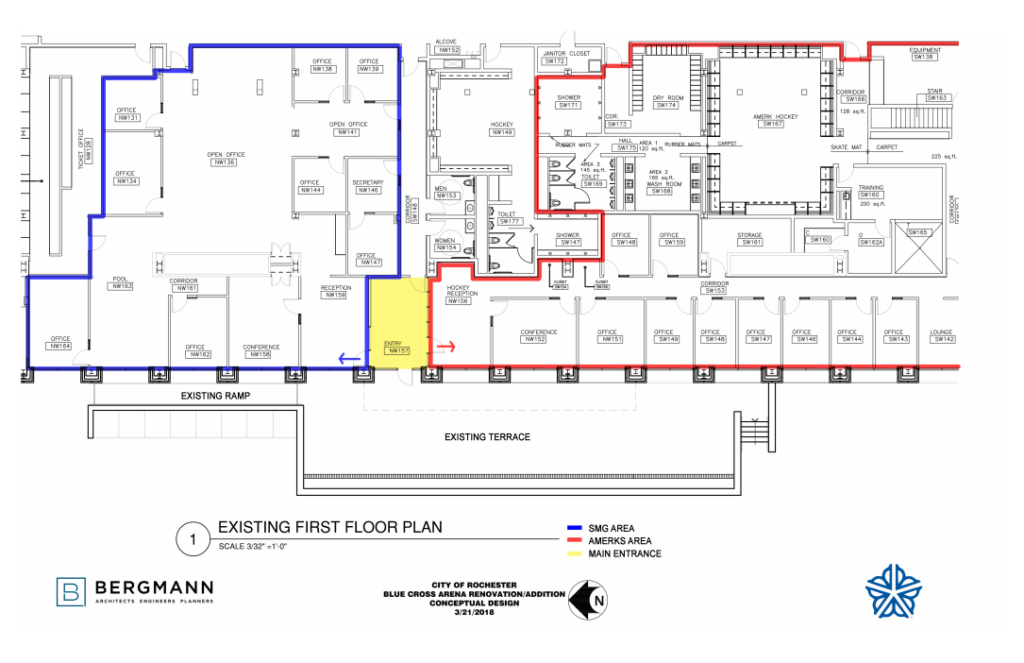 Second floor plans…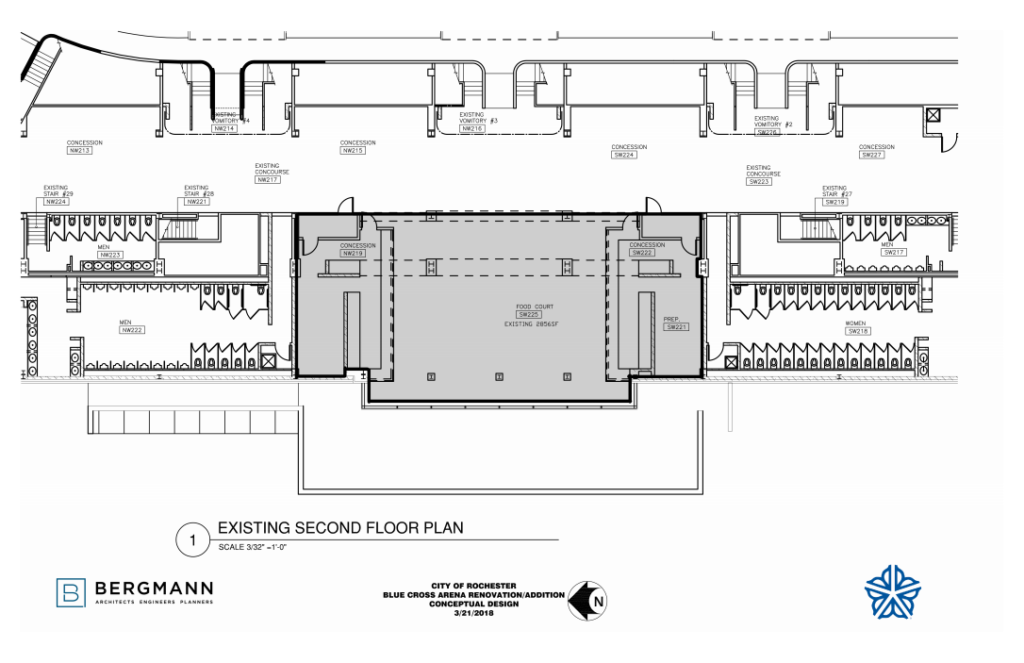 You can view all of the information here on the City of Rochester web site -Â RFP – Blue Cross Arena Upgrades (Version 2.0
Those documents will eventually disappear, here's alternate links for them – Revised RFP // RFP Appendix A
For a history of what's been talked about with the arena click the link below for a thorough timeline: