There's always a Rochester connection and new Cincinnati Cyclones head coach Matt Thomas has one. He played four seasons of hockey as a center at RIT and graduated in 1998. His older brother lived in Rochester for 10 years as well. Thomas made a return trip to Rochester not long after the Gene Polisseni Center opened up and he said he was amazed how much the campus had expanded along with the city of Rochester as well.
Thomas spent last week in Rochester at Amerks training camp getting to know the staff, players and expectations for the upcoming season. He remembers the buzz around town when the Rochester Americans last won the Calder Cup in 1996 and couldn't be happier to be a part of the organization and a return to the ECHL.
Things didn't go as planned prior to this return though. He finished five seasons coaching the University of Alaska Anchorage Seawolves starting with a record of 18-16-4 before four straight losing seasons His record as a coach at UAA was 48-105-21. Last season the team only won four games with two of the wins coming in the final weekend of the season.
"It's one of those things you know you just kind of think you have a plan of where it should all kind of go," he said when I asked him about being back in the ECHL. "The hockey business humbles you on on 5-year plans so to speak. It's great to be back. It's a league that I'm familiar and a league that I've got a lot of experience in and an opportunity to be in a great city in Cincinnati."
Winning starts from the bottom and works its way up.
ECHL experience is the cornerstone of his resume. He has eleven years of coaching experience, nine of which were as a head coach split between Atlantic City, Fresno and Stockton. In his nine seasons as a head coach he is the sixth winningest coach all time in the league and all-time leader in playoff games coached in the league.
When his contract wasn't renewed at UAA last February it was time to go on the hunt for a new job, he was hired as the Cyclones head coach on August 7th.
Thomas talked about pursuing a new job saying, "I made a commitment to myself that if I could control, and you don't get to control a lot of things, if I was going to be in the ECHL I wanted to be in a city that I knew we could win a championship."
He was hired Sabres Assistant General Manager Randy Sexton, who had this to say, "Matt has terrific head coaching experience and has a proven track record of success. After having the opportunity to get to know Matt, it is clear that we are in sync on our development philosophy."
"I was somewhat worried about that. I think you always are as a coach when you come in," Thomas said when asked about how as a coach he lines up with the Sabres development philosophy. "I like a lot of the things that they're doing in the style that they want to play. It's what I believe in personally. The fact that those kind of quote-unquote stars align has made it just an easy transition."
"For Jason (Botterill) and I our number one goal in the whole process is to understand how we're gonna teach from Buffalo all the way down to Cincinnati and with Rochester obviously in between. That's the main the main focus for us."
The goal is to make any transition between the ECHL and AHL as seamless as possible.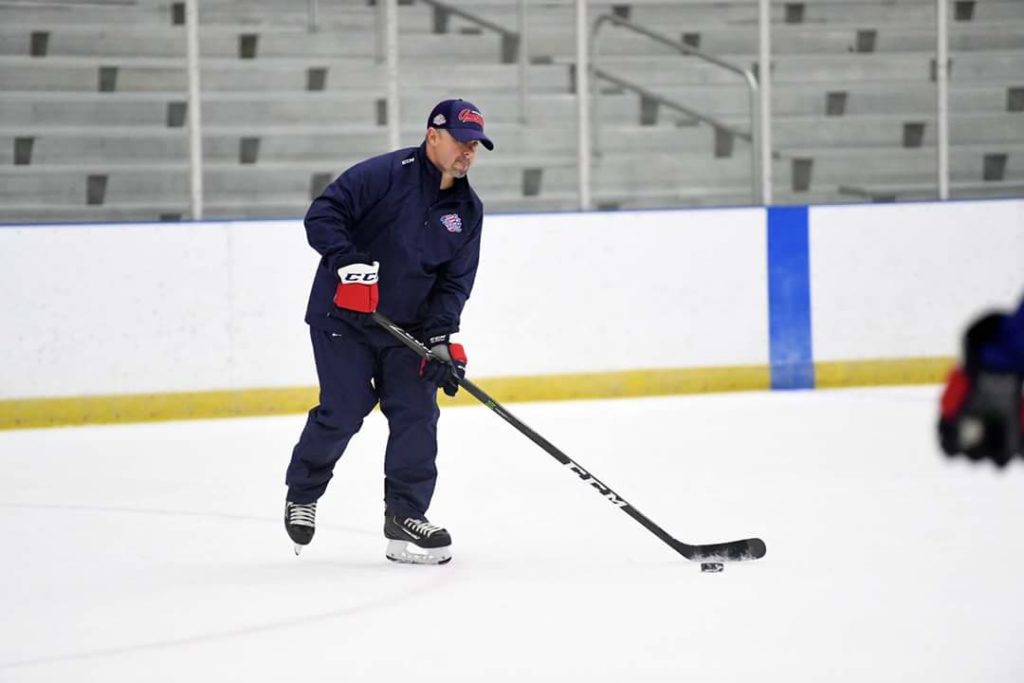 Chasing dreams and goals.
Amerks head coach Chris Taylor often talks about his role in helping everyone achieve their goals in whatever those may be. For Matt Thomas it's no different at his level of the game.
"I think the one thing about this game and this business is that everybody has dreams everyone has goals. The minute you stop chasing those dreams and those goals you'll lose the passion for the game that's required. From the coaching staff all the way down to players to trainers to equipment managers everyone's goal is to see where they can bring it. I mean, everyone's goal is to get to the National Hockey League because it's the best level you can be at. It's fun, it's one of the reasons that I love this level. I love the hunt for it. Guys that are playing in in our league are really hungry to get an opportunity to prove that they belong in the next level."
Veterans and the best situation.
Talking about bringing back veteran players to the Cyclones roster he said, "A few who were already in place when I got the job but to be able to get a few more guys back was important. I think when you're you're in an affiliation agreement as strong as the Buffalo, Rochester and Cincinnati one you need the right type of people around to help the younger players take the next step and understand what it takes to be a pro. I think we've got some guys that have significant American Hockey League experience or significant pro experience that are going to be real good assets to the younger players that Buffalo and Rochester have hopes for them being full-time players in the AHL sooner than later."
With 16 years of coaching experience, 11 in pro hockey, he's seen a few different situations, agreements and various development models.
"Honestly, it's the best situation that I've been involved in," he said. "They're all good in their own ways. I think that the development model that the Buffalo Sabres have has a real, I guess point of emphasis on development. What players will get better and if they get better how they're gonna help organization. So there's real vertical assimilation in that they want to know what's going on at all levels in the in the process. They're a great group of people that work for it because they really do care about every single prospect in their in their organization. I think I think that's true for all organizations but I think it's when you when you really show that commitment to your prospects I think that's what makes Buffalo a special organization right now."
Communication and more communication.
"There's constant communication. Daily or pretty close to it. You know obviously everyone likes to get maybe a Sunday off here and there but but we're certainly getting into that at that time of the year where everyone's gonna be keeping tabs on everyone. There's good communication outlets that are outside of just talking on the phone. There's reports that we provide that go up and go down. Feedback for the players and feedback for management on how players are doing so it's certainly a high level of communication. I think that's what separates Buffalo right now from them from what I've seen. There's a real interest in each player that they believe can make an impact how they're doing on a daily basis."
What kind of team can Cyclones fans expect on the ice?
"I'd like to believe that we're going to be a team that plays fast. I want to be a team that's hard to play against. I think that sometimes can be misconstrued as we're gonna be tough in terms of being a physically a dominating team. I want to be a team that's just very disruptive when we don't have the puck and then tough to catch when we have it. I think that's just where the games going, it's based around the speed. We're looking forward to being a team that can make teams pay when they make a mistake. That's what we want to concentrate on, how can we take every opportunity to create an offensive advantage for our club."