The good news is that there's still another 74 games of hockey to play and plenty of time to work on special teams. The bad news is that the Amerks have struggled through their second straight game.
After the game Chris Taylor shared one bright spot, "I thought our third period was the way we could play hockey."
"We saw little glimpses of what we're capable of doing when we're playing well but we didn't do it consistently and they outplayed us," Wayne Simpson said talking about the game. "I don't think there's any question about that. It's a little disappointing but we know we have a lot more."
Down a goal, Eric Cornel showed some great puck possession skating to the side wall and getting a shot on net that found its way in. Wayne Simpson scored his first goal of the season nine seconds into the second period off a feed from Alex Nylander. The goal put the Amerks up 2-1 for their first lead of the season.
After that the special teams fell apart. Too much stick handling, holding onto the puck, not enough attack. Easy for another team to read the play at that point.
Charlotte scored a power play goal just over two minutes later. Less than three minutes after that Nicolas Roy scored a short handed breakaway goal for Charlotte that put them up 3-2. Zach Redmond fumbled the puck at the blue line and Roy took off.
A questionable roughing penalty on Jack Dougherty gave Charlotte their third power play and they capitalized. Nicolas Roy scored his fourth goal of the season for a 4-2 lead and deflated the building. Roy has started the season with four goals and two assists In four and a half periods of hockey. He'll want to play Rochester every night.
"We took some penalties that we shouldn't have taken. Our discipline has to be better. I'd rather us play a lot harder between whistles than after the whistles," Chris Taylor said after the game. Referring to the Dougherty penalty he said, "taking a penalty like this isn't what we need at that time."
"We still don't bump enough, we don't hit enough. Getting in peoples ways. We'll be practicing that Monday and Tuesday."
Leading up to the season starting the talk was about being a tougher team to play against, playing with grit. Through two games it hasn't happened.
Wayne Simpson gave credit to Charlotte, "They're really good on the forecheck and they have a quick transition, that's where we want to be. It was a good wake up call."
Zach Redmond referenced the game as a learning aspect. He referenced the Norfolk Admirals in the 2011/2012 season. Started slow and by the end of the season they were unstoppable on the way to a Calder Cup win. They know there's a lot to improve on and after two games.
Chris Taylor gave us a process, "It's going to take some time and we know that. It's part of the process."
Rochester started last season with two wins before three straight losses before finding their game. It was a miserable product on the ice these first two nights but as mentioned at the top, there's another 74 games to play.
***
The lineup saw three changes.
Myles Powell, Yannick Veilleux and Jack Dougherty were in the lineup. Justin Bailey, Tyler Randell and Taylor Fedun were in the stands.
"I didn't like things from the other night. We said we've got depth and I have to use it. I can't stick around and go status quo. We have to make sure that everyone is accountable for how they play."
Andrew MacWilliam has served his two game suspension and is eligible to play on Wednesday night against Syracuse.
***
If a referee looked familiar during the game it's because he's a former Amerks forward. Mike Duco wore #82 as one of the two refs on Saturday night. Duco accumulated 384 penalty minutes over the course of three seasons in Rochester during the Florida Panthers affiliation from 2008 through 2011.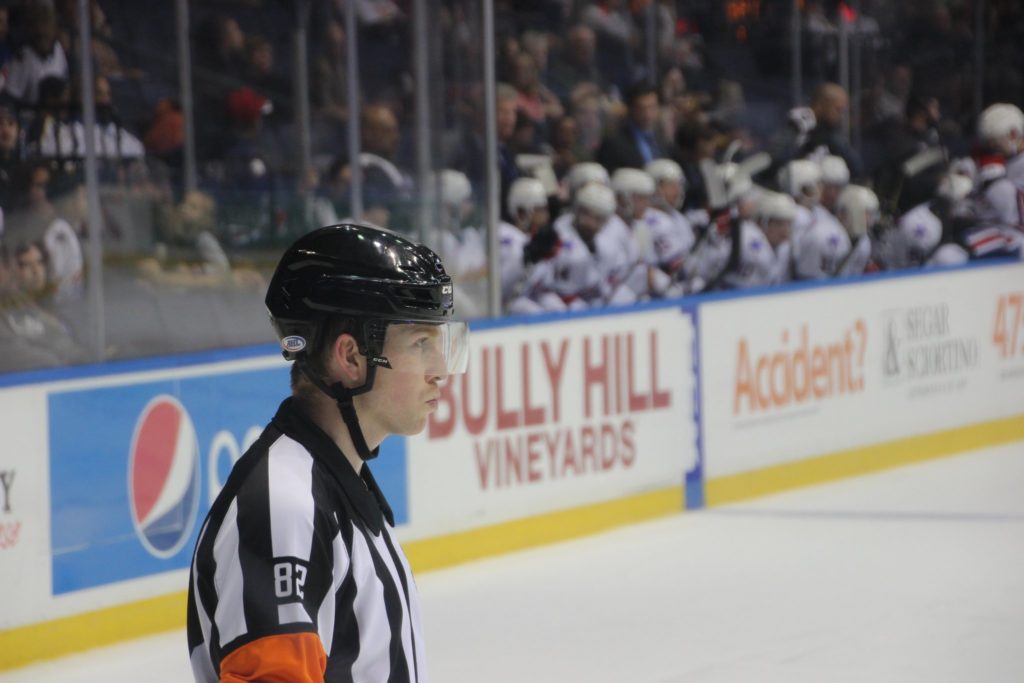 ***
The number one complaint on opening night was concessions. They were better prepared on Saturday night but they didn't offer anything better. A smaller crowd and everyone choosing to eat at home instead of the rink created for a smoother night.
It's not excusable to open a season this way but I'm told it's all a work in progress. Things will eventually improve. I'll have more on that in the next couple of days.
***
Amerks will get back to work after a day off and prepare for Wednesday night when they host Syracuse, the team that embarrassed them in the playoffs last season.