There are players on the Rochester Americans roster this season that will tell you they don't know how many points they have and the coaches will say that points don't matter but to Rasmus Asplund he knows he only has one point in 14 games. That doesn't mean he's playing poorly at all and everyone in the locker room knows it.
When I asked Asplund how he thinks his season has gone so far he said, "I've been playing better and better. I think I'm developing in the right way, I want to play better. I want to be better every day and that's what I'm trying to do. I'm not 100% happy with my game so far, I'm just trying to work hard every day to make progress."
"One point in 14 games is not good enough if you want to be in the big league up there," he said. "You have to produce points especially with the way I want to play and the player that I am but I've been playing better than that stat says."
That one point so far this season for Asplund was an assist against Utica on October 17 in the sixth game of the season. Asplund sent a cross ice pass from the top of the face-off circle to Alex Nylander on the far side at the bottom of the face-off circle who fired a one timer for the Amerks sixth goal of the game.
Head coach Chris Taylor doesn't pay attention to points but still knows how important they are. He said, "there's one game i think he should have had three or four points and no one scored for him. He hit the post or he missed the net. They're going to come, points are going to come. More importantly you look at our team points and that's the best thing."
Assistant coach Toby Petersen works with the forwards and when asked about points he said, "he's a bit snake bitten in that regard. He's making big plays. There's always going to be the players who here or there that are going to regret that nothing came from it. Overall if he continues to do what he's doing he's going to get a lot of opportunities and they're going to go in for him."
Asplund is always pushing the pace of the game up ice, playing with urgency, making smart decisions with the puck, and is always in position.
"I'm creating a lot of offense, I'm playing pretty good," Asplund said when talking about other stats he's looked it. "But i need to play a little better to get on the score sheet."
The Amerks have scored 53 goals this season and he's been on the ice for 13 of them. Ten of those have been even strength, two on the power play and once in an overtime win. Besides the overtime win, two of the other goals were game winning goals. Defensively, there have been 39 goals scored against and Asplund has only been on the ice for six of them. Three even strength, two on the penalty kill and once in an overtime loss.
For most of the season Asplund has been paired on a line with Victor Olofsson and Danny O'Regan. Asplund has been on the ice for all five of the goals scored by O'Regan and three of four assists that O'Regan has this season. He's also been on the ice for four of six goals scored by Olofsson. Those two players aren't doing everything themselves, that's where Asplund comes in creating that offense.
Here's the 13 goals that Asplund has been on the ice for: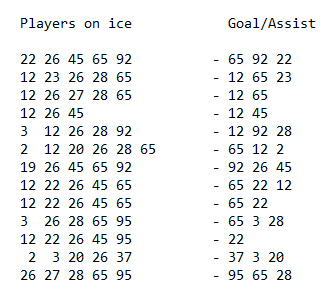 Overall Asplund has a plus-7 rating and is tied with Alex Nylander for second on the team behind Lawrence Pilut at plus-14. Asked about that he said, "I want to be a two-way center so my plus/minus stat is important for me. I look at it a lot, I want to continue having that."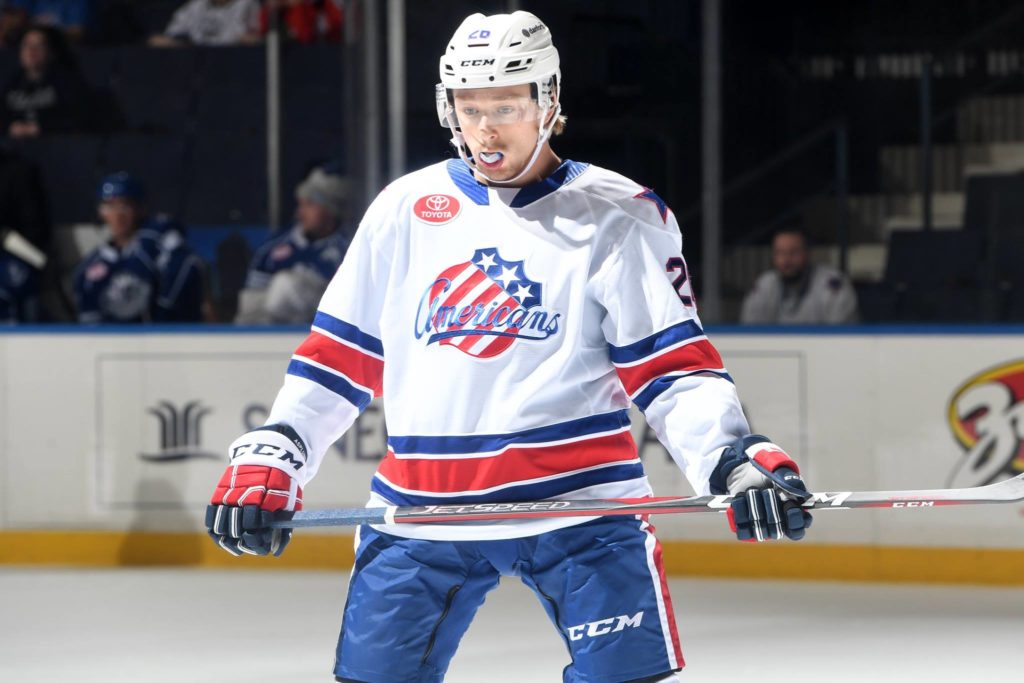 "Stat wise he does a lot of good things," Petersen said. "The points aren't necessarily falling in line with him right now but because everything else suggests he's doing the job those will come."
The one stat that he does need to work on is shooting. In 14 games he only has 19 shots. Of the nine players that have played in all 14 games the only player with less shots is Will Borgen at 13. He's also the most defensive defenseman the team has – so shots aren't expected.
"I want to be a better player out there so I'm just trying to work on those small things like shooting," Asplund said. "Things like where can I shoot more, where can I shoot instead of pass, and where can I pass instead of shooting. You watch a lot of video, I've been watching with Toby too, you try to work on the video because that's where you see where you can improve."
"Do i think he can shoot the puck a little more? Yea I think so, he likes to distribute the puck a lot," Chris Taylor said when asked what Asplund can work on. "That's going to come. Learning the game and as much as he's learning he's in a different role than Olofsson is on the power play. He's not the shooter, he's more of the inside guy helping release passes."
Talked to Toby Petersen about video work and what he'd like to see Asplund do he said, "for me as the guy who's watching a lot of his tape is to attack more. When you have the puck in a good scoring area to not to look to make the back door pass because they will connect once in a while but I want him to attack more, look for opportunities, even just a one foot advantage on a d-man to cut in." Shoot more and attack more.
"With him coming from overseas it has a lot to do with positioning," Petersen said. "The time and space stuff with the smaller ice surface but he's a quick study and he's learning a lot."
After a pretty good training camp in Buffalo and 14 games into the season the size of the ice surface isn't an issue anymore to Asplund. He's adjusted to the chip out, chip in style of play on the smaller surface. "If you make a mistake on the boards here your opponent is going to have a pretty good opportunity to score. If you make a mistake out on the boards in Sweden you have time to repair your mistake before they get a good chance." Based on the stats, it's clear that Asplund isn't making mistakes along the boards. His line mates are scoring and very few goals are being scored against.
One way the ice surface has been noticeable is the physical side of the game. Asplund said, "I've been playing for four years now and of course playing against men is tough. The small ice surface here is making a huge difference on how many times you get tapped in a game. I think that's where it gets tougher because you're getting hit like 10 times instead of four every game. I think that's the tougher part of it and the fighting here makes it tougher too. I think it's a good thing too because if you hit somebody, a dirty hit or something, you have to make up for it so i like that part."
Asplund has zero penalty minutes in 14 games which also means he hasn't been in any fights but it's an aspect of the game he's aware of. The lack of penalties is another sign that he's playing a smart two way game and isn't putting himself into positions to require taking a penalty or even getting called for something questionable in a league where that's common.
"His game has been escalating," Toby Petersen said. "To start off we had a pretty good idea of what we had on our hands. He's really started to make a lot of very intelligent plays. He's a really smart player, good with his time and space. Really good in tight areas and that's why he's in the middle there. He's not afraid to go into piles. We're always looking for everybody, not just him, everybody to shoot more. We want him to utilize his shot more than he is."
Asplund is a player that everyone loves to be around, he's positive, he's learning and keep playing the way he is because everything indicates he's better than what the official score sheets have said.