It's a Friday in February which means it's time for the Rochester Americans Hall of Fame night. The Amerks will induct Doug Janik and Steve Langdon into the Hall of Fame this year.
"It's something to reflect on," Brendan Guhle said when asked about the Hall of Fame night. "Theres a lot of good players that have come through here and it's nice to honor them. Players enjoy watching and learning about that."
[Â Read more about Janik and Langdon at Amerks.com ]
Another local web site called the Democrat and Chronicle (they don't cover much hockey, you may not be familiar with them) wrote about Steve Langdon and how he fell in love with the Amerks before he even started playing here (he also wore Don Cherry's pants at one time). [ Read more here ]
It's also throwback jersey night to the old stars and bars with the "R" in the center. As players were shown the jerseys there was genuine excitement for the look of these. A different reaction from many special jerseys that are worn. The common thought was that the team should wear them more often. The last time they were worn was during the 2010/2011 season when Chris Taylor was still a player.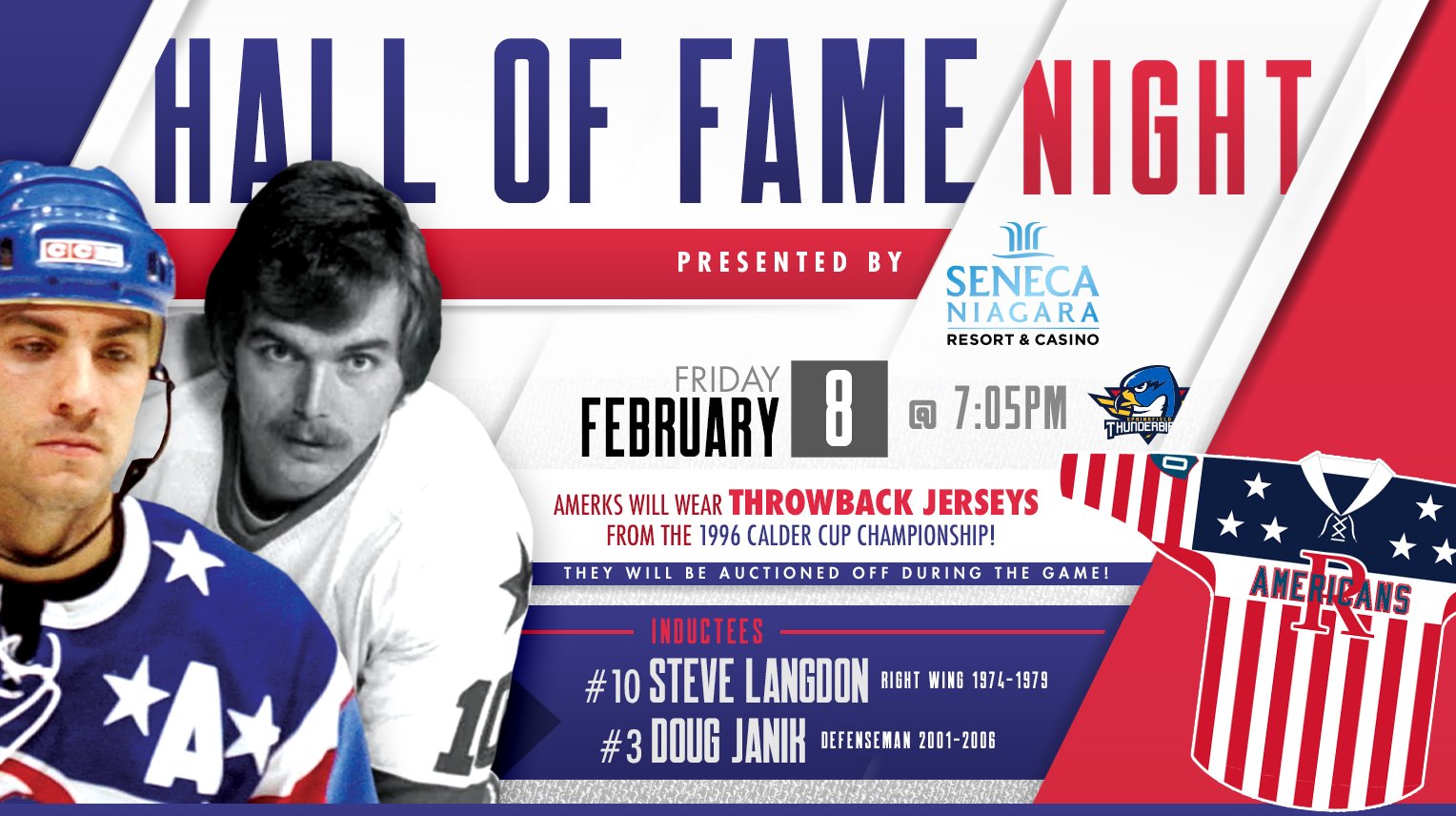 The other big news of the morning was that the Buffalo Sabres assigned defenseman Casey Nelson to Rochester on a conditioning loan. A player can be in the American League for a maximum of 14 days when assigned for conditioning.
Casey Nelson is expected to play tonight and after the morning skate said, "I feel pretty good, pretty well conditioned. It's just getting up to game speed you could say."
Nelson spent the better part of the previous two seasons in Rochester playing a combined 98 games. In those games he had 32 points (9G+23A). Even though he's been with the Sabres all season he's stayed in contact and is aware of how well the Amerks are playing this season.
"Last year I had a blast when I was here and I'm looking forward to more fun with these guys and play some hockey."
He talked to Chris Taylor about playing time and said that Taylor jokingly told him he's playing 30 minutes. Nelson last played on December 4th and has been out since with an upper body injury.
Nelson will be playing for an Amerks team looking to beat a team that embarrassed them the last time they played.
"We have extra motivation tonight, we got beat pretty good in their barn," Toby Petersen said after the morning skate. "We had a pretty rough third period last game and we have a lot to prove tonight."
The last game against Springfield was a 9-4 loss on November 16th. Springfield score seven of those nine goals in the second period. A game that the Amerks locker room would love to forget but hasn't.
Petersen talked about what they need to do different tonight and said, "We have to take the positives from the last game and run with it. We need to learn from the third period. We've had a little trouble maintaining the lead in the 3rd. We need to buckle down and play a complete 60 minutes."
[ Wednesday night recap -Â Wedgewood Stole a Point with Little Help in the Third ]
Rochester only had possession of the puck in the offensive zone for approximately 68 seconds. That isn't an official number but close enough after going back and watching the game with a stop watch. It all came down to the classic 50/50 battles, battles that Syracuse won every single time in a 20 minute span.
"We have to dig deeper and win those battles," Brendan Guhle said. "All we can do is redeem ourselves Friday, have a good game, and come out hard."
Chances are that Guhle and Nelson will be paired up on defense like they had been last season.
Zach Redmond is close to returning to game action but isn't quite there yet. He did not participate in the teams morning skate. Alex Nylander is still out as well since being hurt in practice on Tuesday. Nathan Paetsch, Dalton Smith, Brandon Hickey, and Andrew Oglevie (still no contact) were the players that remained out for extra skating time.
Scott Wedgewood is expected to get the start in net and likely hopes of getting some extra help in front of him.
The game will be streamed live and free on Facebook tonight. Click the link/get reminder below: