The news leaked out late Saturday (and confirmed late Sunday) that Curtis Lazar would be signing a one-way contract with the Buffalo Sabres and with the official start of free agency at noon the news was confirmed. Lazar has signed a one-way contract for league minimum $700k for one year. He can play the center position but primarily plays on the wing.
Lazar was a restricted free agent with the Calgary Flames and was not given a qualifying offer which opened the door to free agency for him. Last season he spent the bulk if his season with the Stockton Heat with 41 points (20G+21A) in 57 games. Out of those 20 goals he scored there were 16 of them that would be considered high impact. Eight power play goals, five game winning goals, and three short handed goals. He was recalled by the Flames in mid February but only appeared in one game and didn't have any points.
Comparing his point totals to the last season in Rochester he would've been tied for 7th overall with Rasmus Asplund who also had 41 points (10G+31A).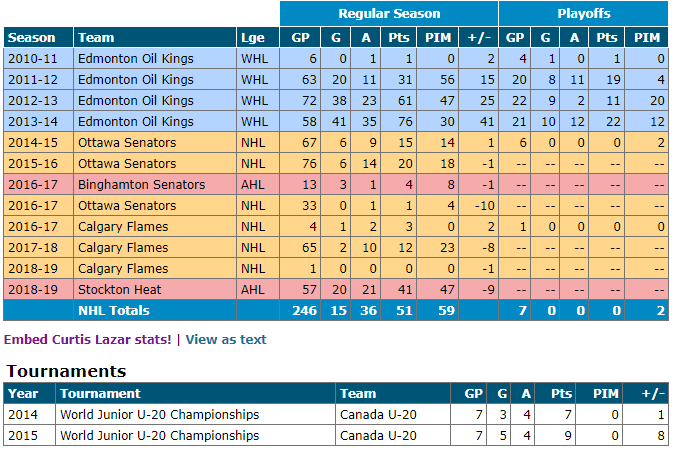 A one-way contract doesn't mean a player can't be assigned to the American League it just means that they'll earn the same amount of money in whichever league they're playing in.
Jason Botterill was asked about Lazar on a conference call and he responded with, "I think that's what we tried to do with all these signings here today is to have a training camp that has a lot of competition and having a lot of competition at each position. What we like about Curtis is something that we talked a bit about with some of the other players, his ability to play both center and wing, he has that versatility there, his ability to [penalty kill], his ability to push the pace. Then you look at his track record, he hasn't done it as a pro, but in junior was certainly know as a scorer too. We're looking for him to come in and challenge for a roster spot."
The Amerks were in need of a top forward and Lazar will fill that position perfectly. He hasn't reached the potential of a first round draft pick (17th overall by Ottawa in 2013) while playing in the NHL but will find a tremendous opportunity in Rochester. He'll be one of the top players on the Amerks and in an organization that lacks forward depth. There'll be an opportunity for a call up if Buffalo has a need.
Lazar also played for Canada's World Junior team in 2014 and 2015 and was the team captain in 2015 when they won the tournament. He was also part of the Memorial Cup winning team in 2014 when he played for the Edmonton Oil Kings.
He scored his first NHL goal on December 14, 2014 while playing for the Ottawa Senators and scored on Jhonas Enroth of the Buffalo Sabres.
His 316 professional games would classify him as an exempt veteran in the American League. In order to play in Rochester he'll have to clear waivers but based on previous NHL performance that shouldn't be an issue.
Amerk expected centers to lead the way for the 2019/2020 season: Jean-Sebastian Dea (also signed today as a free agent), Rasmus Asplund, Kevin Porter, and Sean Malone.
It sounds like Curtis Lazar will land in Buffalo on a one-way contract after not receiving a qualifying offer from the #flames.

— Chris Johnston (@reporterchris) June 29, 2019
Can confirm @reporterchris report.
Told by person with direct knowledge of the situation that Curtis Lazar's first choice is to sign with #Sabres once free agency opens tomorrow.

— John Wawrow (@john_wawrow) July 1, 2019