The Buffalo Sabres have made it official that they signed defenseman John Gilmour to a one-year one-way contract today for $700k. This is a move that may make some Sabres first fans say who and why? He'll provide some incredible depth as an offensive threat on the Amerks blue line joining Zach Redmond as a puck mover.
Last season Gilmour played with the Hartford Wolf Pack and lead the team with 54 points (20G+34A) in 70 games. Five of those goals were on the power play and five were game winning goals. He tallied 18 out of those 34 assists on the power play. His 20 goals were second in the league among defenseman behind Zach Redmond who scored 21.
Frank Seravalli of TSN stated that 13 different NHL teams had shown interest in Gilmour making him one of the more highly sought after depth defensemen on the market for AHL teams.
Jason Botterill was asked about Gilmour on a conference call and he said, "He really took a step this past year in the American Hockey League. There is a familiarity with him. Steve Greeley, our assistant general manager, was part of the group that brought him to New York as a college free agent. What we like a lot about his game is, certainly, the threat with his big shot. But just his ability to skate, his ability to get up with the play — how we want to play defense — closing out guys, making sure they don't have a lot of space up there. So just that ability to skate, the ability to create offense with the shot, and just his compete level was drawn to us and [we're] very glad that he joined us here in Buffalo."
Gilmour was drafted in the 7th round (198th overall) in the 2013 NHL draft by the Calgary Flames. The Flames didn't offer him a contract and after his season he signed with the New York Rangers. In three professional seasons he's appeared in 33 NHL games with the Rangers with 28 of those games in the 2017/2018 season and five last season.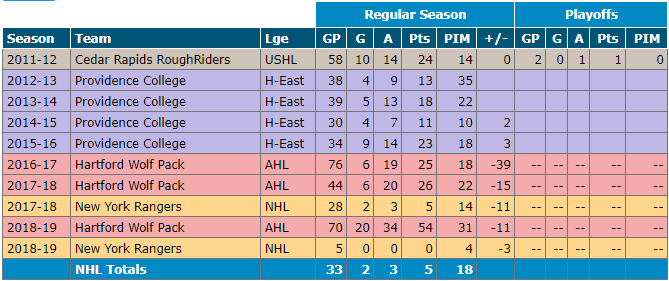 With only 223 professional games under his belt he will not count towards the veteran roster limit.
He was selected to the 2018 AHL All-Star Game and won the fastest skater competition.
He's a left handed defenseman and could be a lethal force on the power play paired up with Zach Redmond. Last season Redmond had 50 points (21G+29A) in 58 games. Ten of those goals were on the power play, 12 power play assists, and 10 game winning goals.
John Gilmour scored 20 goals last season with 5 of those on the PP including this blast against the Amerks. He also had 18 PP assists. Redmond + Gilmour on the PP should be lethal. pic.twitter.com/JySHiuWINl

— Let's Go Amerks (@LetsGoAmerks) July 1, 2019
Lawrence Pilut may not be healthy to start the season but when he is there's a great chance he'll be a full time NHL player with the chance of a conditioning stint in Rochester.
Top six defenseman in Rochester are shaping up to be Zach Redmond, John Gilmour, Andrew MacWilliam, Will Borgen, Jacob Bryson, and Casey Fitzgerald.
Devante Stephens, Justin Baudry, Kurt Gosselin, and Brandon Hickey are also already under contract for next season. The first three will likely spend a majority of their time in Cincinnati.
****
Here's the official Sabres press release:
BUFFALO, N.Y. (July 1, 2019) — The Buffalo Sabres today announced the team has signed defenseman John Gilmourto a one-year contract with an AAV of $700,000.
Gilmour (6'0", 190 lbs., 5/17/1993) has spent the last three seasons as a member of the New York Rangers' organization. He was named to the 2018-19 AHL First All-Star Team after finishing the season among the AHL's top 10 defensemen in goals (2nd, 20), assists (8th, 34), points (2nd, 54) and game-winning goals (2nd, 5). Gilmour, who also participated in the 2018 AHL All-Star Classic, has recorded 105 points (32+73) in 190 career AHL games and five points (2+3) in 33 NHL contests.
Drafted by the Calgary Flames in the seventh round (198th overall), Gilmour played collegiately for four years at Providence College and was a member of the Friars team that captured the 2015 NCAA National Championship. The Montreal native notched 65 points (22+43) in 141 career NCAA games for Providence.