After years of trying to tell people in Rochester that ticket prices are a good deal compared to the rest of the league I decided it was time to finally go through the league and compare costs and see where the team ranks to the rest of the league. For everyone else around the American Hockey League you can also see where your team ranks with pricing.
Since this is a Rochester focused site I'll mention that we are 20th with the highest price ticket 16th with the lowest price ticket middle of the road.
At the bottom of the page there's a table that can be sorted by cost (high or low) as well as by division.
There's various pricing levels for all teams so I just went with three different costs – highest, lowest, and glass seats. In many arena's with glass seating that is only the first and second row and considered a higher premium seat. The highest price is what would be considered center ice at the lowest level. Lowest cost is just as described, the cheapest ticket sold without a special promotion or offer.
$34.62 is the average price for a premium seat (center ice) in the American Hockey League.
$16.36 is the average price for the cheapest seat in the American Hockey League.
$113 is the most expensive seat in the league to sit on the glass for a San Diego.
18 out of 31 teams that charge a premium for seats on the glass.
$54 is the most expensive center ice premium seat in Ontario, California.
$20 is the the cheapest prime seat in the league courtesy of Syracuse. That was somewhat surprising considering they have one of the smaller arena's in the league and are always playing in front of a filled arena.
$10 is the cheapest cheap seat in the league sold by San Jose and Springfield.
13 teams offer tickets at $15 or less for the cheapest seat.
I've checked and double checked these prices but there's a great chance that I missed something or have a wrong price. Some teams may also have some sort of variable pricing – I was typically just picking a random Friday night game and looking at costs. If anything is off it's not off by much. Feel free to hit me up on Twitter @LetsGoAmerks or through email via keith at letsgoamerks dot com with any corrections. All prices are in USD and calculated with a $0.75 exchange rate for the Canadian teams.
One thing that throws all of these prices out of whack when you go to buy a ticket is the ridiculous fee's that Ticketmaster charges. RIDICULOUS! Two examples – when buying the cheapest $16 ticket for a Syracuse game you'll be tortured with an additional $10.80 in fee's. Buy a cheap $16 ticket in Rochester online and you'll be tortured with an additional $8.95 in fee's.
The best way to try and avoid these fee's when buying tickets is to visit a box office directly at an arena or even easier call a team directly and talk to a ticket rep. Majority of teams will sell tickets directly. There are also a ton promotions available that lower ticket prices and you'll often bypass fee's when buying direct and over the phone.
ProTip: Get to know a season ticket member because they can often purchase additional tickets at the prices they paid. If you're already a season ticket member hook your friends up (make sure they pay you first) and help grow the game.
ProTip #2: PROMOTIONS AND OFFERS! Look them up. These are all full price mentions. Just about every team has them. Example: Amerks offer a discount when buying two tickets. There's almost always a discount of some sort on tickets for most teams.
Let's jump right into it.
Scroll all the way down for a full chart where you can sort by price, conference, and division.
Ticket sorted by premium seat prices: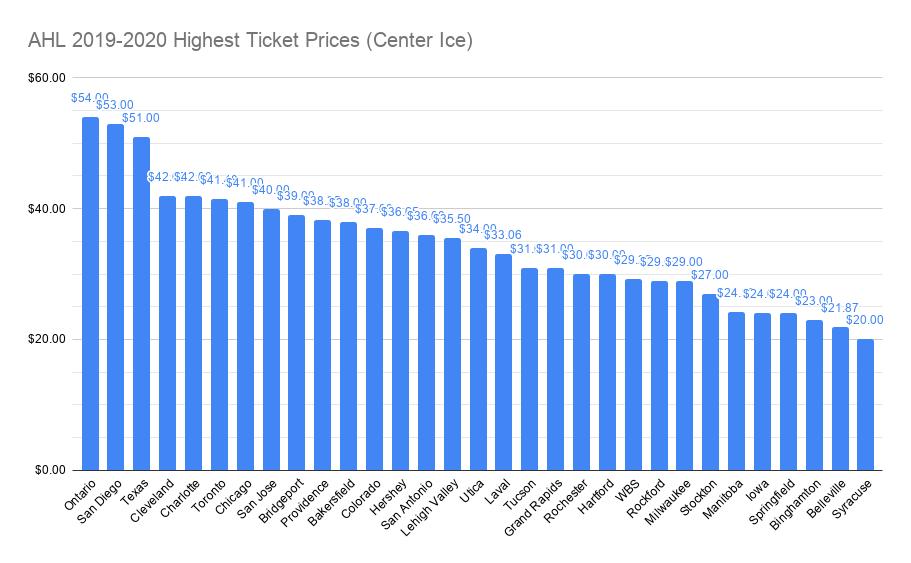 Ticket sorted by the cheapest seat: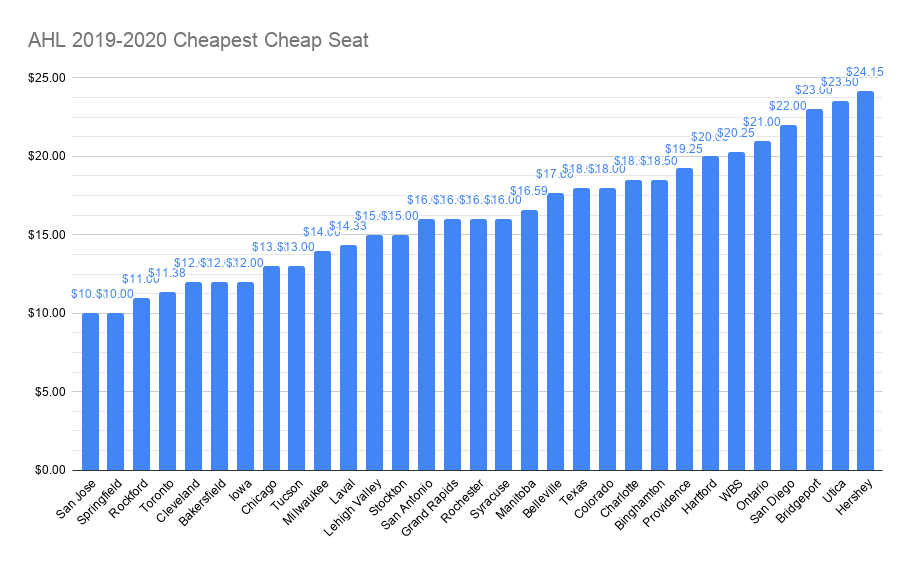 AHL 2019-2020 Ticket Prices (Glass, High, Low)

[ Download PDF ]
While looking through prices I also glanced at season ticket holder member benefits and picked out some unique ones. A lot of special offers go out before the end of a season for early bird renewals and aren't available later in the summer. There's a good chance you may have seen something that I don't have listed here.
Unique/Interesting Season Ticket Member Benefits:
Texas, Iowa, Belleville – Free subscription to AHLTV for away games. I believe other teams offered AHLTV away games as an early bird renewal but these three teams were the only ones I found it mentioned as a current offer.
San Diego – Free parking with a lower bowl seat.
Rockford – Free parking.
Charlotte – Free or discounted parking for all home games for anyone who purchases at least two seats.
Bridgeport – $2 off $10 or more at concessions.
Laval – Invite 10 friends for free to a game that you select.
Hershey -Season mug with $1 pop refills.
Springfield – $1 pop and $3 beers.
Hartford – $2 pop and $4 beers.
Milwaukee – $100 concession card and a free Brewers game.
Other common benefits across all teams are team store discounts, a NHL preseason game, and the first round of the playoffs.
Additional Day of Game Fee's:
$3 – Laval and Grand Rapids
$2 – Binghamton
$1 – Bakersfield, Stockton
$1 – Springfield when they host Providence
I know that I missed some day of game fee's but that's because most teams don't make these very clear. When attempting to buy tickets you're often directed straight to the ticketing web site. I know that Rochester charges an additional fee day of game but that isn't listed on their web site. Another example is Syracuse who charges an extra day of game fee when Rochester visits but just like Rochester that fee isn't listed in an obvious way on their web site or on Ticketmaster.
I do give credit to those teams for making those day of game fee's obvious. Fee's are a part of life but they should be disclosed.
Here are all of the prices (best viewed in landscape mode on a phone):
2019-2020 AHL Ticket Prices
| | Team | Conference | Division | High | Low | Glass |
| --- | --- | --- | --- | --- | --- | --- |
| wdt_ID | Team | Conference | Division | High | Low | Glass |
| | | | | Avg = 35.00 | Avg = 11.94 | |