The questions Wednesday morning were about shots, scoring, and the power play. Wednesday night the Rochester Americans took care of all three in a 5-1 win over the Hershey Bears where five different players scored goals and one of those was on the power play.
After the game Gord Dineen said, "Tonight we were not one and done. That has been one of our problems so far this season in getting one shot or opportunity but I thought tonight even when we missed the net, we retrieved the puck and found a way to have a lot of puck possession."
The first period felt like more of the same from recent games with the shot attempts but little excitement or big scoring chances. The team also went 0/2 on the power play in the first period.
Action picked up in the second when Kevin Porter redirected a shot by CJ Smith into the net for a much needed power play goal. Text book shot and tip in.
Sean Malone scored his first goal of the season off a push in by a Hershey Bears player. That bounce, well push in, was needed and gave the team an extra push. Tage Thompson started the play with a pass to Rasmus Asplund who connected the cross ice pass to Malone who was going to the net. A Bears player made an attempt at a sliding block but helped push the puck into the net.
It only took 96 seconds for Scott Wilson to give the Amerks a comfortable 3-0 lead for their biggest second period of the season so far. Wilson used his body to shield a puck that was dropping to the ice which allowed him to turn and take a shot. JS Dea was in front of the net for a great screen.
CJ Smith has had a slump on the score sheet through the first six games with only one one goal but that's not to say he hasn't had quality chances or hasn't been trying. Going into the night he had been averaging 4.3 shots a game just behind Tage Thompson who has averaged 4.5 shots a game. CJ Smith finally broke the mini slump at 10:35 of the third period to put the Amerks up 4-0 with an assist to Andrew Oglevie.
Brett Murray started in his second consecutive game and now has a point streak. Murray had an assist Saturday night on the Amerks only goal in Utica and then Wednesday night with 47 seconds left in the game scored his first professional goal. Murray used his size and speed to work the puck around the outside and beat Bears goalie Pheonix Copley with back hand.
Jonas Johansson had the shutout attempt ruined by Hershey when Axel Jonsson-Fjallby scored a shorthanded goal with 4:54 left in the third period. Rochester did hold Hershey to just three shots in the third period.
"It was a tough one for us to give up towards the end of the game," CJ Smith said talking about the goal against. "J.J. played a really good game for us and it was still nice to see him play well and get the win."
The team knew what they needed to improve upon and followed through. With the win the Amerks improved to 4-2-0-1 this season.
Shot charts for the game (1st, 2nd, 3rd, entire game):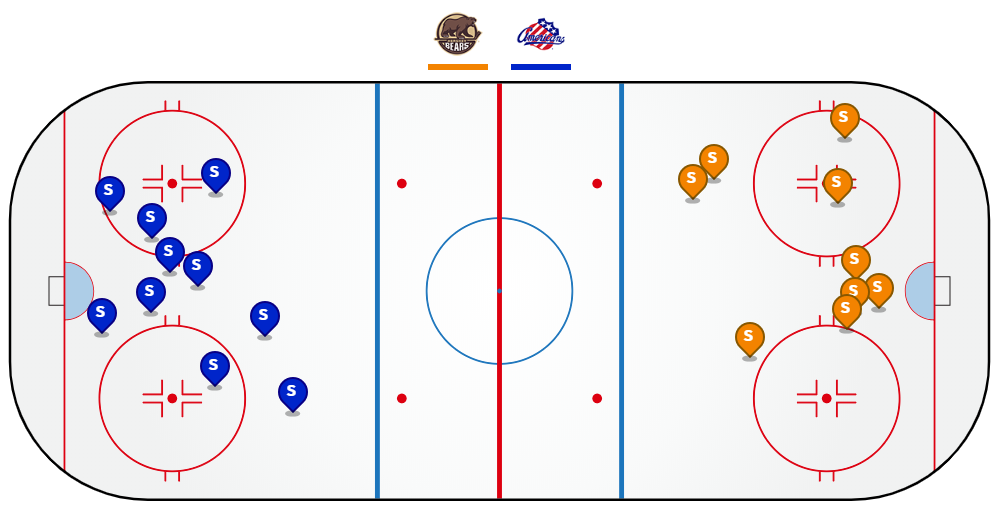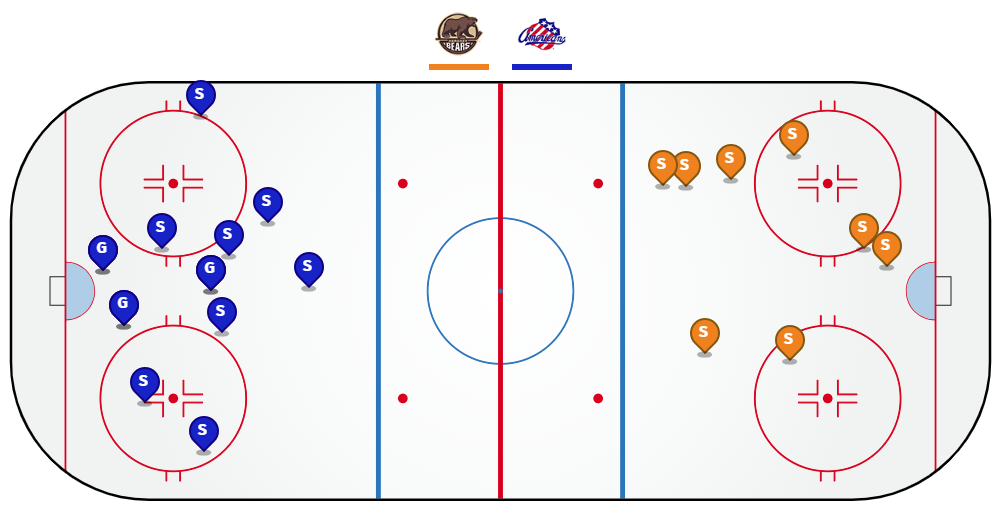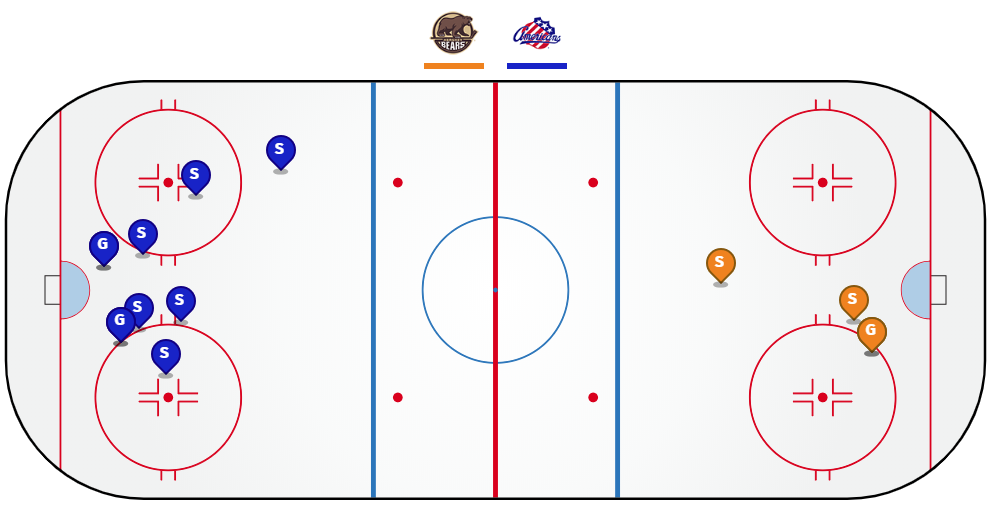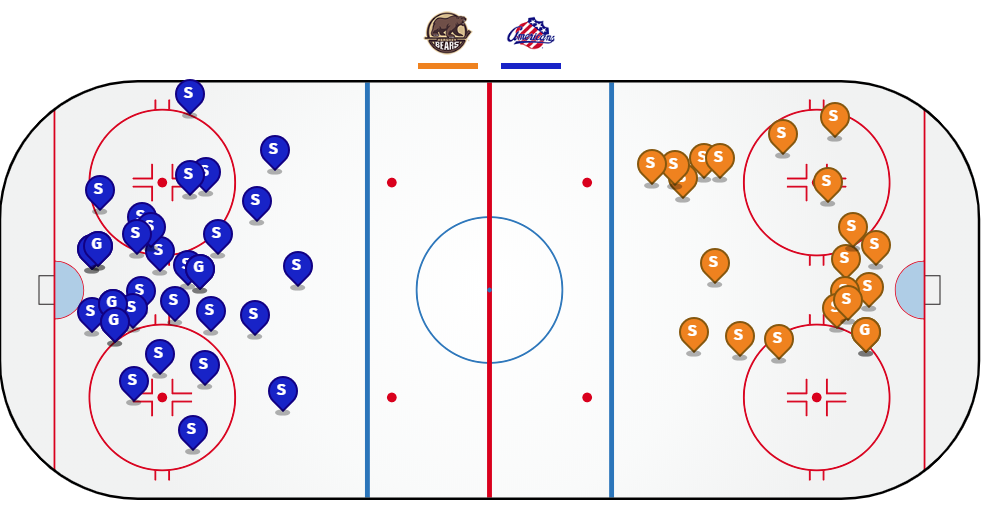 Rochester returns to practice Thursday and Friday before two road games this weekend. They play Saturday night in Syracuse and a late afternoon game Sunday in Springfield.
****
Starting Lines:
Wilson, Dea, Lazar
Malone, Asplund, Thompson
CJ Smith, Porter, Oglevie
Murray, Burton, Cornel
MacWilliam, Borgen
Bryson, Redmond
Pilut, Nelson
Johansson
Scratched: Fitzgerald, Hickey, Paetsch, DSmith, Randell
Unknown status: Elie
Injured: Ukko-Pekka Luukonen, Taylor Leier.
Box Score:
Hershey Bears 1 at Rochester Americans 5 – Status: Final
Wednesday, October 23, 2019 – Blue Cross Arena
Hershey 0 0 1 – 1
Rochester 0 3 2 – 5
1st Period- No Scoring.Penalties-Moulson Her (slashing), 4:54; Sgarbossa Her (slashing), 17:10; Borgen Roc (interference), 19:25.
2nd Period-1, Rochester, Porter 2 (C. Smith), 7:58 (PP). 2, Rochester, Malone 1 (Asplund, Thompson), 12:58. 3, Rochester, Wilson 2 (Lazar, Redmond), 14:34. Penalties-Maillet Her (tripping), 7:26; Lazar Roc (slashing), 14:48.
3rd Period-4, Rochester, C. Smith 2 (Oglevie, Pilut), 10:35. 5, Hershey, Jonsson-Fjallby 4 (Gersich), 15:06 (SH). 6, Rochester, Murray 1 (Oglevie, Nelson), 19:13. Penalties-Alexeyev Her (tripping), 0:46; Sgarbossa Her (slashing), 3:39; O'Brien Her (roughing), 14:15.
Shots on Goal-Hershey 9-8-3-20. Rochester 10-11-8-29.
Power Play Opportunities-Hershey 0 / 2; Rochester 1 / 6.
Goalies-Hershey, Copley 2-2-1 (29 shots-24 saves). Rochester, Johansson 1-1-0 (20 shots-19 saves).
A-2,764
Referees-Ian McCambridge (52), Brandon Schrader (46).
Linesmen-Bryan Pancich (94), Donald Jablonski (38).