The Rochester Americans gained another veteran defenseman when the Buffalo Sabres assigned Zack Bogosian after he cleared waivers Saturday afternoon. All reports out of Buffalo have stated that he is expected to report to Rochester but no time frame on when that will be. He is not expected to be in the Amerks lineup Saturday night in Syracuse.
This latest update from Joe Yerdon raises more questions and a bit of uncertainty about the next steps.
Zach Bogosian's agent Darren Ferris says via text he'll be meeting with Bogosian over the next couple days to discuss his future.

— Joe Yerdon (@JoeYerdon) February 15, 2020
This story will be ongoing and updated.
Bogosian had requested a trade in early December which resulted in him being a healthy screatch in 17 of the last 26 games.
Assigning Bogosian to Rochester will save the Buffalo Sabres approximately $1.07 million in salary cap space.
Bogosian has had quite the five seasons with the Sabres with a lot of it spent on the injured list. Here's some stats that were Tweeted out by John Vogl:
243 games played.
170 games missed.
13 goals, 54 assists.
10 fights.
Minus-49 rating.
Minus-464 Corsi.
Approximately $27.5 million in salary.
How would his performance benefit the Rochester Americans? That'll remain to be seen. While his performance in Buffalo has been questionable a fresh start in Rochester at the American League level could be a boost of renewed energy. Could also be the opposite direction.
Looking ahead..
If he does report and is available to play in games with Rochester it'll create some new challenges for the Amerks coaching staff not only on defense but with veteran limits.
The main defense lineup in Rochester has consisted of Zach Redmond, John Gilmour, Jacob Bryson, Will Borgen, and Casey Nelson. Lawrence Pilut is locked into a position when he's in Rochester. John Gilmour was called up but other than being scratched for one game he has been a constant in the lineup. Where Zack Bogosian would slot in will be interesting when based on right/left defensive pairings.
Andrew MacWilliam and Brandon Hickey have played as needed in the lineup when injuries or call ups have required them. Nathan Paetsch and Casey Fitzgerald have played more games as forwards than at defense.
Here's the Amerks defensive roster with Bogosian [ from the LGA Roster page] :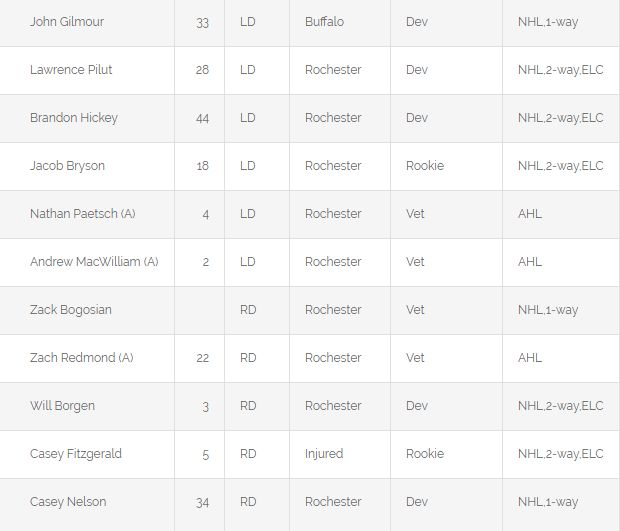 An AHL team can only dress a maximum of five veterans (320+ pro games) plus one exempt veteran (260+ pro games) in a game. A team can also any combination of veterans plus exempt veterans in a game but not more than six total and not more than the five plus one.
This would force a player like Dalton Smith, Tyler Randell, Andrew MacWilliam, and Nathan Paetsch out of a lineup if everyone is healthy and Bogosian reports to play.
Here is the current list of veterans and exempt veterans on the Amerks roster [ from the LGA Roster page] :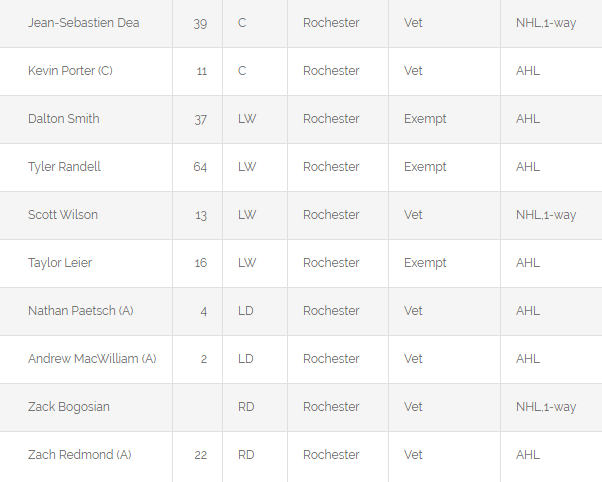 The Amerks are in Syracuse Saturday night and play at home Sunday afternoon against Utica.
This will be an ongoing story for everyone relating to Bogosian and what the next steps are for him in his career.