The Rochester Americans had a rare Friday night off after a trip to Charlotte this week and will look to end a four game losing streak on the road against the Syracuse Crunch tonight. The weekend will be capped off with a Sunday afternoon home game against Utica that starts at 3:05pm.
It's been a streaky start to the 2020 calendar year for the Rochester Americans. The new year started with an exciting 4-3 overtime road win against Belleville and it's been a roller coaster since. A seven game losing streak followed by turning things around into a six game winning streak and now followed by a four game losing streak.
Over the last 17 games the Amerks have gone from averaging 3.15 goals per game to 2.94 and have gone from averaging 2.41 goals against to 2.76. Numbers trending in the wrong directions. One thing that has remained consistent are the special teams, neither of which are that great. The penalty kill has hovered around 82% and the power play between 16% and 17%. There hasn't been any improvement.
This current streak started with a 5-2 loss against Syracuse at home last Friday in what the team called their worst game of the season. They'll have a chance for redemption on the road tonight. Syracuse is on a streak of their own with four wins in their last five games with the only loss coming in a shootout against Utica.
Rochester has fallen to third place, one point behind Utica in second, but division points are going to become huge in this final stretch of the season. Toronto and Syracuse are tied for fourth place and only five points behind the third place Amerks.
Some roster movies this week, highlighted below, should not have a direct impact on the performance of the Amerks this weekend. They've gained two players in Pilut and Wilson. They lost Gilmour, who has struggled, but can be replaced in the lineup by Casey Nelson who was sick this week and didn't play in Charlotte.
Ukko-Pekka Luukkonen will likely get the start tonight in Syracuse and have a chance to bounce back after losses in his last two starts, one of which was the last game against Syracuse last Friday.
This Season to Last Season
Through 50 games here's some stats to compare from this season to last season at this time.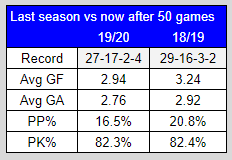 Roster Moves
Assigned to Rochester this week: Lawrence Pilut and Scott Wilson. It'll be great to have Pilut and Wilson back in the lineup. Two players that lead by example in performance and also make everyone around them better.
To Rochester from Cincinnati: Goalie Michael Houser and defenseman Mathew Spencert were called up from the Cyclones.
To Buffalo from Rochester: Andrew Hammond and John Gilmour. The Sabres announced that Carter Hutton missed practice today for a maintenance day. John Gilmour was called up as a seventh defenseman to join the Sabres roster. The team prefers Lawrence Pilut to play in games versus sitting and practicing as an extra.
Placed on Waivers
Zach Bogosian was placed on waivers Friday, cleared, and was assigned to Rochester.
More on what that could mean to defensive pairings and how the veteran limit could be impacted:
****
For all the current updates bookmark and follow @LetsGoAmerks on Twitter.