Former Rochester Americans forward and former Boston Bruins draft pick Tyler Randell has announced his retirement from hockey, this time after nine professional seasons.
Tyler Randell played two full seasons, his final two seasons, with the Rochester Americans and was a great piece of the puzzle towards team success. Last season he played in 22 games and tallied a high five goals and two assists. The work of Tyler Randell, Dalton Smith, and Yannick Veilleux over the course of three different seasons were difference makers and proof of how players could contribute beyond just throwing punches. Enforcers but provided so much more on and off the ice. The last of the enforcers is fitting for names like this.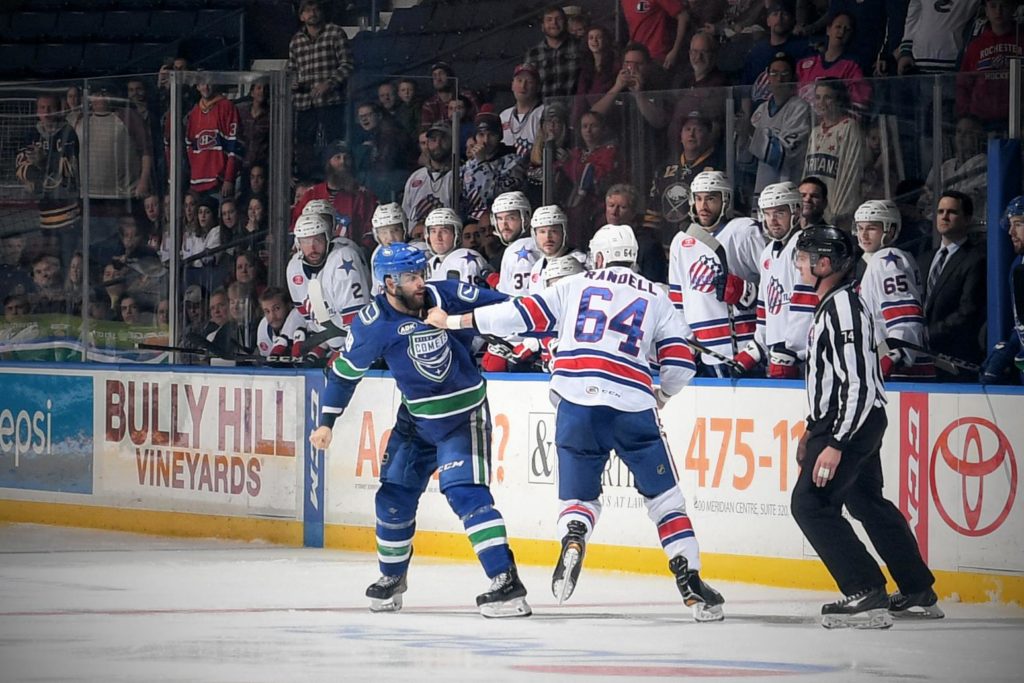 Here's the content of his Instagram post along with the full post below:
After 9 unforgettable seasons as a professional hockey player, I have decided that the time has come to hang up the skates and focus on the next chapter of my life. I would like to thank my parents Norm and Nicole for the countless hours at the rinks, and the money they spent over the years to make my dream of being a professional hockey player a reality. My sisters Ashley and Kylie for the love and support over the years. My Agent Joe Resnick for being there for me, not only as an agent, but as family over the last 16 years. My teammates throughout the last 9 years where infinite memories, and lifelong friendships have been made. My friends who travelled far and wide to support me and visit us throughout the seasons. The fans in each city I have played in for all of your support night in and night out. And last but certainly not least my wife Alicia and our baby girls Ainsley and Paityn. Alicia… the sacrifices you have made over the last 14 years to allow me to live out my lifelong dream of being a professional hockey player mean more than I will ever be able to express to you. From the long distance, to disastrous travel experiences to visit me, to living with me in the States and putting your career on hold, to pushing me to be the best person I can be, to being the best wife and mother to our incredible little angels. You are my Rock and I love you! Thank you to the @providence.bruins @nhlbruins @bellevillesens @amerkshockey organizations for all you have done for me!
Here's the full Instagram post from Tyler Randell
View this post on Instagram
[ Direct Link to give him likes and follows ]
A quick search of the LGA585 Twitter account produced these former Tweets..
https://twitter.com/AmerksHockey/status/1194776133277011972?s=20
If you made it this far there's one last question..