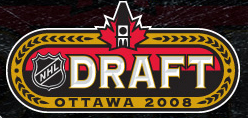 The NHL held it's 2008 entry level draft on Friday night in Ottawa and the night did indirectly impact the Amerks.
Olli Jokinen has been on the chopping block in Florida almost every season for the past eight years.  This year it actually happened.  The Florida Panthers traded Olli Jokinen to the Phoenix Coyotes in exchange for defenseman Keith Ballard (21 points in 82 games in the 2007-08 season with Phoenix), defenseman Nick Boynton (12 points in 79 games last season) and the 49th overall pick.
The Florida Panthers still didn't have a first round draft pick this season.  So, the first draft day was only truly interesting to major Amerks' fans through any trades the Panthers made.
This lowers the possibility that Panther prospect Shawn Matthias will ever see time in a Rochester Americans uniform.  The Panthers will be in desperate need for some scoring and Matthias has the possibility to fulfill that role.  In four games with the Panthers last season he scored two goals.  It does open the door even further for the Panthers to sign a veteran center to lead the Amerks.
With the Panthers trading for two defenseman, the chances of current defensive prospects making the jump to the show are greatly dimished.  The Amerks defensive roster will most likely consist of Keaton Ellerby, Franklin MacDonald, Jordan Henry, Peter Aston, Luke Beaverson, and Michael Caruso.  These kids show promise, but shows even more how much of a need the Panthers will need to sign a veteran defenseman to help out, along with a veteran goalie to get through any tough times.
Here is a run down of the rest of the 1st round of the 2008 NHL Entry Draft:
There were 13 trades that took place in the first round this year.  This is an outstanding amount concidering between 2003-2007 there were never more than 5 trades that took place in any of the first rounds.Â
The 1st round trades from this year are as follows:
Cammellari was traded to the Flames for their 17th pick overall in the first round.
Pick #25 (Montreal) and 2nd round in 2009 to Calgary in exchange for #138 pick (Flames) and Alex Tanguay.
Leafs traded picks #7 this year and either (pick #60 this year and Toronto's 3rd round pick in 2009) or (#68 this year and 2nd round from 2009) to the Islanders for their #5 pick.
Columbus Blue Jackets trade Pick #19 and 3rd round this year to Philly for RJ Umberger and 4th round pick this year.
Islanders trade #7 pick to Nashville for the #9 pick and the #40 pick
Buffalo Sabres traded pick #13 this year and 3rd round pick in 2009 for Kings' pick #12.
Nashville trades #15 to Ottawa for #18 and 3rd pick in 2009
Devils traded pick #21 to Washington for picks #23 and #54
Devils trade #23 pick to Wild for pick #24 and 3rd round pick in 2009
Flyers trade #27 pick to Capitals for Steve Eminger and pick #84 this year
Ducks trade pick #28 to Phoenix for #35 and #39 this year
Here are the first thirty picks in the 2008 Draft:
1. Lightning – Steve Stamkos
2. Kings – Drew Doughty
3. Thrashers – Zach Bogosian
4. Blues – Alex Pietrangelo
5. Leafs – Luke Schenn
6. Blue Jackets – Nikita Filatov
7. Nashville – Colin Wilson
8. Coyotes – Mikkel Boedker
9. Islanders – Josh Bailey
10. Canucks (RIP Luc) – Cody Hodgson
11. Blackhawks – Kyle Beach
12. Sabres – Tyler Myers
13. Kings – Colten Teubert
14. Hurricanes – Zach Boychuk
15. Senators – Erik Karlsson
16. Bruins – Joe Colborne
17. Ducks – Jake Gardiner
18. Nashville – Chet Pickard (first goaltender selection)
19. Flyers – Luca Sbisa
20. Rangers – Michael DelZotto
21. Capitals – Anton Gustafsson
22. Oilers – Jordan Eberle
23. Wild – Tyler Cuma
24. Devils – Mattias Tedenby
25. Flames (RIP Mickey) – Greg Nemisz
26. Sabres – Tyler Ennis
27. Capitals – John Carlson
28. Coyotes – Viktor Tikhonov
29. Thrashers – Daultan Leveille
30. Red Wings – Thomas McCollum