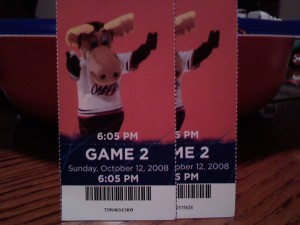 The Rochester Americans lost to the Binghamton Senators on Sunday night, final score was 3-1.  The Amerks opened the season with three games in three nights and lost all three.  They go on the road to play the Manitoba Moose next weekend, October 17 and 18th.
The Amerks lone goal was scored when Tanner Glass tipped in a shot from the point by Peter Aston at 15:01 of the third period.
The much anticipated Shawn Matthias was again not very visible.  Expectations are high on him so the less he produces the more fans are going to wonder.  One factor in tonights game could have been that we were often on the penalty kill or power play, a role he may not be intended for.
Chris Beckford-Tseu gets another loss in his column, but he played well.  The first two Binghamton goals were scored after some superb passing on a power play, and the third by bad defensive coverage.  He needs to be given time before anyone gets ready to throw in the towel on him.  More than anything our young defense needs some work to be able to help him out.
It was another game (and familiar story) of a young team that is working to find that chemisty needed in a team sport.  They played an older and talented Binghamton Senators.
The Amerks outshot the Senators 34-18, dominated with shots in the 2nd and 3rd periods, but another familiar story took place, they could not get the puck in the net.  Other teams are able to score on us with less shots, only time will tell if that's due to goaltending or the lack of quality shots.
Stefan Meyer didn't play, his groin injury will probably have him off the ice for a while.
Keaton Ellerby is expected to be in the lineup next weekend in Manitoba.