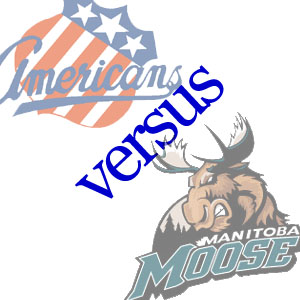 The Rochester Americans are on the road this weekend to play division rival Manitoba Moose.  The Amerks only won two out of ten games last season against the Moose, one of those being a shoot out win.
The Amerks opened the season last weekend with three losses, two against the Syracuse Crunch and the other against the Binghamton Senators.
The Manitoba Moose lost their first two games, both against the Hamilton Bulldogs.
One of the things that the team lacked last weekend was chemistry.  After playing three games together and a full week of practice, the groundwork for chemistry should now be in the locker room.  Coach Benoit Groulx has provided the tools during practices, it's up to the players now to execute.
While it's still too early to panic, the team needs to win.  They can't afford to have already lost three or possibly four games to division rivals in the first eight days of the season.  The team needs to win not only for themselves, but the fan base as well.
The keys to an Amerks victory are very simple: Score some goals, play solid defense, and the goaltenders need to keep those "softies" from going in.  They can't rely on getting breaks or lucky bounces, they need to make plays to win.  They'll also need to keep Jason Krog of the Moose from getting scoring opportunities, he had a goal and two assists last week.
Stefan Meyer (groin), Keaton Ellerby (hand), and Jordan Henry (knee) are not expected to play as they recover from injuries.
You can listen to the game live on Sports Radio WHTK 1280 AM in Rochester.  You can also watch the games live on AHL Live for $6 a game.