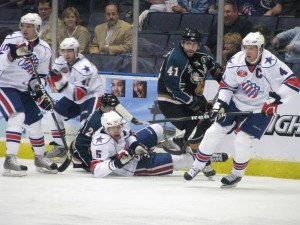 The Manitoba Moose arrived in Rochester on Thursday night, and expected controlled every aspect of the game on Friday night.  Chances are the Moose are going to roll right over Syracuse on Saturday, and return to hand the Amerks their 12th loss of the season on Monday night.  Throw in the towel, this season is done.
The final score of Friday nights game was 5-1.  The lone Amerks goal was scored as the puck ended up down low behind the net, Repik and McArdle worked hard getting it free when Matthias was able to stuff it into the net past Moose goalie Cory Schneider.
Aside from the goal by Matthias and the Riley Emmerson vs Guillaume Desbiens fight, this game was disgusting.
Tyler Plante started in goal but was pulled after only playing 12:39 of the first period and allowing three goals on eight shots.  In defense of Plante, a goalie can only do so much as his teammates in front of him are out of position and all over the ice allowing opposing players to skate freely.
This team is going to end the season even worst than last years did unless something changes.  Can anyone really imagine this team getting more than 20 wins at this point?  I'm being generous with 20, how about 10?
This team has only won ONE game out of ELEVEN and they have been outscored 53-22.  Not one single player has been signed to help this team.  Zero.  Nothing.
After losing all three games opening weekend a lot of people called for change.  Many more said, "let's see what happens, it was only the first weekend."  The following weekend came with another two losses, both against the Moose.  The same thing, wait and see.  Well, here we are a full month into the season and just as we think we've hit rock bottom, we sink even lower.
The players and coaching staff are putting in as much effort as they can, I really do believe that.  Benoit Groulx and Jason Cippola have given the players what is needed to win, but other teams are just better than us.  It's obvious, and no one in management is doing anything about it.
If just one of these people – Alan Cohen, Jacques Martin, Jack Birch, Jody Gage, Lewis Staats, or Curt Styres cared about this team they'd be on a conference call demanding something be done.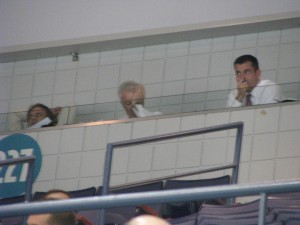 Jack Birch should feel ashamed representing the Panthers as he watches this team, yet continues to give the "company line" to fans about "working hard to find some help."  I should bring my Florida Panthers hat that arrived in the mail on Friday up to him and ask for a refund.
What's the worst that can happen, you sign some kid from the ECHL, he sucks, and you get rid of him two days later?  It can't be any worst than what's going on now.
The only thing I can imagine at this point is that the Florida Panthers have no money.  If travel expenses are an issue, I'll volunteer to go and pick up a player who is within a 5hr drive.
Maybe I'm wrong, maybe something is going on, no matter what it is I'm sure it's not pretty and no one is saying anything
The bottom line is that this team has talent, but the combined talent of the entire team is not high enough to compete in the AHL.  I'm not going to call out any players, again I don't think they deserve it at this point.  I'm sure many others disagree, but any anger or displeasure of the team should be directed at any one member of Amerks ownership or Panthers personel that is often seen around Blue Cross Arena.
The Amerks are back on the ice Saturday night against the Houston Aeros.  The Aeros are currently in second place with a record of 7-4 behind the Manitoba Moose.