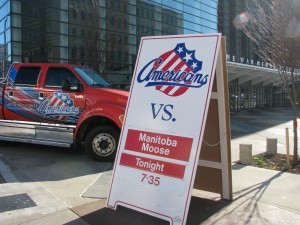 Another home game in Rochester tonight.  The Amerks will take on the Manitoba Moose for the 3rd time this season.  In their first two meetings in Manitoba, the Moose won both games 3-1 and 4-1.  I would be hard pressed to find a person who doesn't think this is going to happen again tonight.  But, you know me…Little Miss Sunshine.  I think the Amerks will get two points tonight.
I don't know why I keep putting faith in these guys.  I think it has to do with my son loving them just as much as I do unconditionally.  It makes me think the same way.  But, I digress.
Lines for tonight look like this:
Meyer – Sprukts – Mikflikier
McArdle – Larman – Glass
Duco – Matthias – Repik
Emmerson – Brine – Collins/Calla
Henry – O'Brien
Caruso – Ellerby
Fitzpatrick – Garrison
-Aston (scratched)Â – Beaverson (scratched)
-MacDonald (scratched)
Tyler Plante
-Chris Beckford-Tseu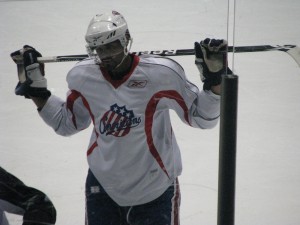 With Jordan Henry making his return tonight, he better show us that he is worth the roster spot.  At the end of last season, he was finally coming into his own and giving the other defensemen a run for their money.  If he can get right back on that horse today, he could find a regular spot, pushing his friend Franklin MacDonald to the bench.
Janis Sprukts, Stefan Meyer and Jacob Micflikier are at the drawing board making themselves some plays for tonight.  I think adding Jacob to the top line is a great idea.  He can score, he has proven that.  If he had been here since our first game, he would most likely be our points leader (I know, I know…it wouldn't be hard to do that).
If the team doesn't work together tonight to pull out a big win, I am going to be severely dissapointed.  I'm sure most of you wonder why I haven't been dissappointed yet…well, last season I was just always mad that the team would only put in about five minutes of true playing at the end of each game.  This year our team is trying to win.  They just aren't skilled enough when playing against veteran teams.  That isn't the fault of the players.