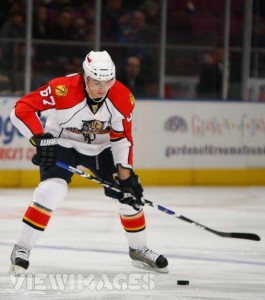 From Panthers.NHL.com:
The National Hockey League (NHL) announced today Florida Panthers rookie C Michael Frolik has been selected to compete in the three-on-three NHL YoungStars Game on Saturday, Jan. 24 in Montreal, Canada, as part of NHL All-Star Weekend.

Frolik, 20, is tied for 10th in rookie scoring with 17 points. He's tied for ninth in rookie goal scoring (8) and eighth in power play assists (4). Frolik has played 38 of the Panthers' 41 games and is the team's seventh-leading scorer.

A native of Kladno, Czech Republic, Frolik was the Panthers' first choice (10th overall) at the 2006 Entry Draft. Frolik spent the two previous seasons in Quebec playing for Rimouski of the Quebec Major Junior Hockey League. Frolik had 65 points (24 goals) in 45 games last season for Rimouski.

Sunrise Sports & Entertainment is the premier company of its kind in South Florida. Home to more than 200 events annually and the Florida Panthers Hockey Club, the BankAtlantic Center is consistently a top 15 worldwide venue according to Pollstar. The BankAtlantic Center welcomes more than two million guests each year and is also the home of Sawgrass Live presented by BankAtlantic and two monthly magazines Unrestricted and Panthers Insider.