The recent season that ended for goaltender Alexander Salak of TPS Turku was similar to that of Mike Brodeurs with the Rochester Americans, great goalies playing for bad teams.  The Florida Panthers recently signed Salak to a 2yr contract, a goaltender that is called the next Dominik Hasek by many people that have seen him play.
The story of the 2008/2009 season for Salak is one that many Rochester Americans fans can relate to, a bad team that was carried out of last place by excellent goaltending.  TPS Turku built the success they had during the season on the shoulders of Salak, much like the Amerks did when Brodeur arrived.  Both teams still finished near the basement in the standings, but both teams also became teams that opponents knew they could not take lightly.
Salak and Brodeur both carried their teams out of the basement, and both have a dream of playing in the NHL.
I asked Salak what made him sign with the Florida Panthers he said, "It is a dream for everyone, but the dream is not to sign but to play for an NHL team."
Salak is connected to some well known NHL goaltenders through his goalie coach "Upi" Ylönen.  Antero Niittymaki, Miikka Kiprusoff, Jani Hurme, and Fredrik Norrena are all students of the legendary goalie coach.  Salak is a young 22 year old who has a bright future ahead of him based on the success of his coaches other students.
Having said all that it probably comes as no surprise that Salak calls Miikka Kiprusoff one of his favorite goaltenders.
I recently had the excellent opportunity to see Alexander Salak put on a Florida Panthers practice jersey for the first time this past week for a few days at the Teen Ranch and he looked great.  His style was much different than Tyler Plante, Brian Foster, and Marc Cheverie who were also at the camp (more on them in the future).  Salak was not afraid to come out of the net, he does not stay back between the pipes, but seemed to have a sense of where he was at all times.  Another thing that I noticed was that his stick is all over the place.  He was reaching for and poking at the puck every chance he could get.  My first thoughts were that this kid was all over the place, but no matter where he was he stopped the puck.  That would be where the Hasek similarities come from.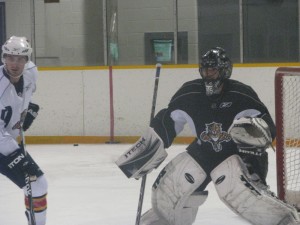 When I asked Salak to describe his style of goaltending he said, "I play like how I felt good."  He continued to say, "I play much more like the Finish product than the Czech product."
I nodded and agreed like I knew what that meant, but I won't deny that I do not know what the difference is.  Hopefully someone else out there in the world can educate me.
The Florida Panthers Assistance General Manager Randy Sexton shared these recent comments with Kevin Oklobzija of the Democrat and Chronicle:
Sexton said the Panthers' European scout, Jari Kekalainen, raved about Salak. "Last year he pounded the table telling us to sign Antti Niemi. It came down to us and Chicago with Niemi."

Niemi saw little depth in the Blackhawks system and believed there was a better opportunity. Then maybe two days after he signed, Chicago signed Cristobal Huet. Niemi was very good with the AHL's Rockford IceHogs.
Watching Salak play may increase the blood pressure of fans as you wonder what he is doing and why he is so far out of the net, but that does not mean he is flopping around like a fish out of water.  He has a desire to learn and a desire to play in the NHL sooner rather than later.
"If you want to play in the NHL you have to learn with new teams and you have to improve yourself really fast," Salak said.
I think it's safe to say that the path to "the show" for Salak will likely bring him through the American Hockey League first playing for the Rochester Americans.  He will be competing along with Tyler Plante and Chris Beckford-Tseu for playing time in Rochester.  I could be wrong and the Panthers could see him as a #2, but considering he's never played a game in North America that would be quite the gamble for the Panthers.
When I asked Salak about his 61 penalty minutes over the previous two seasons he laughed and said, "it's not anything bad."
What some may call his temper is one of the only negative things I could find out about him.  When he starts playing he will be bumped and nudged a lot more as opposing players test him so it will be interesting to see where this leads.
Assuming that Alexander Salak does start the season with the Rochester Americans he will more than likely help fans forget that Mike Brodeur has moved out of the city.  Salak has a strong passion to win and a strong passion to play in the National Hockey League.  If that path involves playing in the AHL first he will do what he needs to get promoted.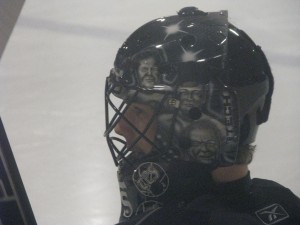 If you're wondering who is on the side of his goalie helmet it's an equipment manager and other guys from his team.  Salak said that he was late getting his design in and it turned out to be more of a joke than anything else.
The Florida Panthers will open training camp in September and I think it's safe to say that a lot of eyes will be on Alexander Salak.
The future is bright for Salak and the expectations are high.