(Rochester, NY)… The Rochester Americans announced today the captains for the 2009-10 American Hockey League season. Local hockey product Rory Fitzpatrick will serve as team captain for the second straight season, while veteran forwards Chris Taylor and Graham Mink have been appointed alternates.
Head Coach Benoit Groulx announced the captains just two days prior to the Amerks home and season opener on Saturday, October 3rd. That night, the Amerks battle the Lake Erie Monsters at 7:05 p.m. at The Blue Cross Arena at the Rochester War Memorial.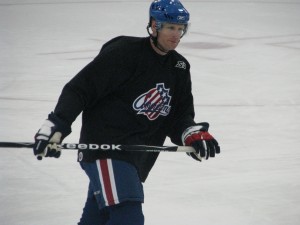 "It's a tremendous honor," said the 34-year-old Fitzpatrick, who last season joined Dick Gamble, Al Arbour, Jody Gage, Don Cherry and other Amerk greats who donned the "C" in the 54-year history of the franchise. In 2008-09, the Irondequoit native served as team captain for the first time in his professional career. He has worn an "A" as an alternate captain a few times in his career, including six years ago as an Amerk. Fitzpatrick has played in 717 professional games, including 287 in the National Hockey League with teams in Montreal, St. Louis, Nashville, Buffalo, Vancouver and Philadelphia.
Taylor, who makes his return to Rochester this season, will serve as one of two alternate captains for the 2009-10 campaign. Taylor, 37, returns to the red, white and blue after spending the last three seasons (2006-09) with the Frankfurt Lions of the German Elite League (DEL). Taylor played parts of seven seasons (1999-2006) with Rochester and sits eighth in scoring among all-time forwards with 369 points (115+254) in 367 games. A three-time team MVP (2001-03, 2004-05), Taylor is the only player in Amerks history to be named MVP in three different seasons, in addition to taking home the scoring champion title in three of four seasons as well.
Mink, one of Rochester's several offseason signings, will also serve as an Amerks alternate captain this season. Mink, a two-time Calder Cup winner with the Hershey Bears, completed the 2008-09 regular season, scoring a career-high 32 goals, along with 59 points in 68 games. He continued his offensive output during the playoffs, finishing the postseason second on the team with seven goals and fourth with 15 points to help the Bears clinch their AHL record 10th Calder Cup. Mink also saw action in two contests with the Washington Capitals, Hershey's NHL affiliate.