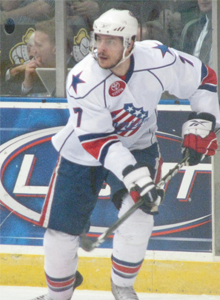 The summer of 2009 has been an exciting one with the roster that has been built for the 2009/2010 Rochester Americans.  There'll be a lot of questions from fans getting to know some of the new players but also a lot of questions wondering about some favorites from last season.
So here's a quick rundown of players that are no longer in the Florida Panthers or Rochester Americans organizations:
Tanner Glass – He signed a one year two way deal with the Vancouver Canucks.  After a strong training camp he's on the Canucks opening night roster.  The Panthers had said they would have liked him back but were not ready to offer him a deal prior to the start of free agency.
Janis Sprukts – is currently playing for Dinamo Riga in the KHL.  Sprukts was unhappy last season when he realized he had no real chance of cracking the Florida Panthers lineup.  So he packed up his things and went across the pond.
Mike Brodeur – The Florida Panthers were ready to offer him a $105,000 contract to stay in the organization but Brodeur thought his chances of playing in the NHL would be better with the Ottawa Senators organization.  He is currently playing for the Binhamton Senators and expected to be their #1 goalie.
Stefan Meyer – Traded to the Phoenix Coyotes by the Panthers on June 18th for center Steve Reinprecht.  The 'Yotes were going to lose Reinprecht to free agency and were looking for something in return.  Reinprecht signed and is playing for the Panthers.
Karl Stewart – Prior to the end of the 08/09 season he signed a contract to go and play for the Straubing Tigers in Germany.  He said that he did not know what Rochesters plans were and was looking for job security.
Randall Gelech – Update: Thanks for the comment below.  Gelech is currently on the injured reserve for the Grand Rapids Griffins.
Drew Larman – Signed a one year two way deal with the Boston Bruins and is starting the season with the Providence Bruins.
David Shantz – Signed with the Calgary Flames and will be playing for the Abbotsford Heat this season.
Franklin MacDonald – signed in Austria with the Liwest Blackwings of the Erste Bank Liga
Jacob Micflikier – Signed with the Albany River Rats and was just sent down to the Florida Everblades of the ECHL.
Riley Emmerson – is playing for the Springfield Falcons this season.
If anyone knows where Gelech is please leave a comment!