The Amerks are on the ice this morning for possibly the last practice before their first game on Saturday night at home against the Lake Erie Monsters.  As of right now Benoit Groulx has tomorrow morning scheduled off but that could change any at any minute.
Post Practice Update: Jimmy Bonneau and Jon Landry signed a PTO contracts with the Amerks prior to practice this morning which allowed them to be on the ice.  Victor Oreskovich and Trevor Gillies are still negotiating with the team with discussions going well.  I'm sure both will be signed soon.  Goalie Ryan Mior was released.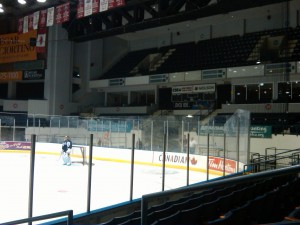 The first thing you'll probably notice in the arena tomorrow is the new "Party Deck" located behind at the zamboni entrance end of the arena.  The deck includes sections 103, 102, 101, 129, and 128.  The seats have been taken out and a platform is setup for group rentals.  Lewis Staats said that one of the things they noticed last year traveling around the league was that Rochester was one of the few arenas that did not have an area where fans could be right near the action.  The team was able to work with the City of Rochester and SMG to make it happen.
It's an interesting idea and probably an easy sell for groups that want to be near the ice and not up in a suite.  They also plan to sell wrist bands that will allow others to hang out down there as well.
Back to the practice….
On the ice this morning, but not necessarily the opening night lineup:
Chris Taylor, Evgeny Dadonov, Graham Mink
Mike York, Jamie Johnson, Andrew Sweetland
Brady Calla, David Brine, Kenndal McArdle
James DeLory, Jimmy Bonneau, Dan Collins
Defenseman: Rory Fitzpatrick, Jordan Henry, Clay Wilson, Keaton Ellerby, Matt Duffy, Luke Beaverson, Jon Landry, and Peter Aston.
And it looks like Segar & Sciortino is the huge sponsor this season.  They've sponsored the pictures that are on the atrium windows and also have a massive banner next to section 203.