The Amerks were hit with a surprise left this afternoon when they learned that Trevor Gillies had signed with the Bridgeport Sound Tigers.  As of this morning they said they were negotiating with Gillies and thought things were going well.  I guess Gillies didn't see it that way.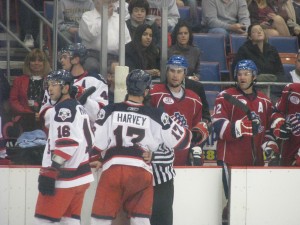 The team had hoped to have a real heavyweight heading into opening night and for the second season in a row that hope has come crashing down at the last minute.  Last year Steve MacIntyre was claimed off of waivers by the Edmonton Oilers just before the deadline.
Jimmy Bonneau was signed to a PTO contract on Friday morning so the team will have someone in the lineup that can patrol the ice and fight.  James DeLory is still with the team as well and he's hoping to get the chance to prove himself.
It'd be interesting if they called Mike Sgroi back in to give him another look.
Is this disappointing?  Yes.  But it's not as if the Amerks don't have any muscle on the team.  Jimmy Bonneau may not be a heavyweight fighter but he stood ground pretty well with Jon Mirasty on Tuesday night.  I think that's a pretty good test in the preseason.
I love watching hockey fights but more importantly I love watching my team win hockey games.
I'll have more on Jimmy Bonneau on Saturday morning.