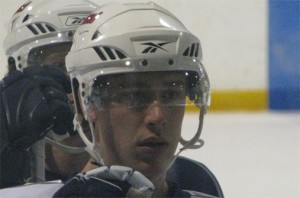 In a somewhat surprising move today the Florida Panthers sent Shawn Matthias back to Rochester on Wednesday.  All signs and reports (that I had read) out of Florida seemed to indicate he was playing well and earned a spot with the big club.
The Rochester Americans have a great roster and Matthias makes it even better.
He was widely criticized by everyone for his poor performance last season but he's not likely to go back in time.  Matthias lost 20 pounds over the summer and got himself into better shape.  He's leaner, faster, stronger, and mentally prepared for the season ahead.
Here's what Peter DeBoer told George Richards over at On Frozen Pond:
The Panthers returned Matthias to their minor league team on Wednesday, coach Pete DeBoer saying everyone within the organization is where they should be. DeBoer wants Matthias to dominate play in the AHL although my bet is he'll be back soon enough.

He needs to earn his ice time and score some goals," DeBoer said. "He had a good training camp but hasn't had a good season in the [AHL] yet. He needs to do that."
Matthias is well aware of the criticism he received and hoping to prove everyone he has improved.  It may seem hard to believe but he loves Rochester, enjoys playing here, and he's ready to play hockey.