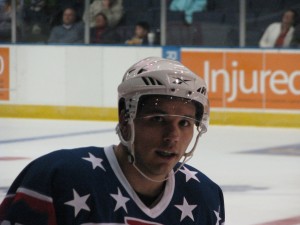 Jimmy Bonneau is on his way back to Rochester (according to his profile on Facebook) after being released a week ago.
The Amerks have seven games remaining for the month of October.  The team plays Syracuse twice and also plays Binghamton twice, two teams known for playing a physical and tough game.
This brings up the question, does management really see the need for some toughness or did they give in to the demands of fans?
Ok, giving in to the demands of fans is a stretch.
The Amerks did just fine on Monday night against the Crunch which seemed to quite the debate, at least for two days.  The question now will be to see where and how they fit him in.