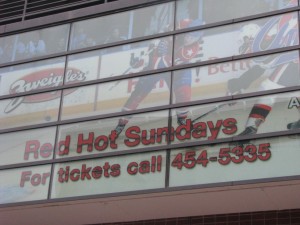 The Amerks play their first earlier Sunday home game of the season this weekend (October 25, 2009) and they have a couple of great promotions to go along with the game.  The game starts at 5:00pm and it's against the Syracuse Crunch.  It's a great chance to get out to a game and be home at a decent time.
The team is off to a hot start playing some entertaining hockey.  Tell a friend, pass the word on!!
After Wednesday nights game they're currently on a four game winning streak prior to this weekends three games in three days.  The team is playing some great hockey especially on their home ice, don't miss out.
Sweets in the Suites
*** In the spirit of Halloween, the Amerks will again host their third annual "Sweets in the Suites" promotion, courtesy of BJ's Wholesale Club. Wear your Halloween costume to the game and receive best-available seating for as low as $10.00.  Kids can trick-or-treat, be selected to carve pumpkins or have a chance to win trick-or-treating with The Amerks Moose or Eagle, R. Thunder. The highlight of the evening is the Best Costume Contests with fan voting selecting the winners. The first contest is for kids ages 5 and under with the winner receiving one hour of trick-or-treating with The Moose on Halloween (Saturday, October 31st).
The Best Costume winner for kids ages 6-12 will win one hour of trick-or-treating with R. Thunder. Restrictions apply to the Greater Rochester Area. As part of "Sweets in the Suites," all children can trick-or-treat during the first intermission of the game in the suite level of The Blue Cross Arena. Three people will also be selected to compete in a pumpkin carving contest during the second period. The winner will win an Amerks gift bag.
Red Hot Sundays
*** The game also falls on the first installment of the Amerks Red Hot Sundays, courtesy of Zweigle's. This season marks the second season that the Amerks have partnered with Zweigle's to offer the "Red Hot Sundays" promotion. The promotion allows fans to purchase a Family Four Pack, which includes four hotdogs, four soft drinks and four tickets, for the low price of $44. In conjunction with Savor Catering at The Blue Cross Arena, the Amerks will offer this great promotion to the fans 10 times this season. Packages can be ordered by calling the Amerks office directly and speaking with a ticket sales representative. The phone number is (585) 454-5335. After the game, fans can head down to The Distillery at 1142 Mt. Hope Ave. for the official postgame party.