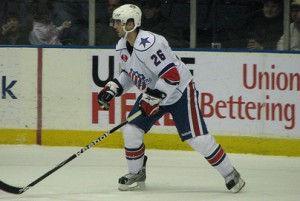 Michal Repik scored the game winner in OT to extend the Amerks winning streak to six games with a come from behind victory in Syracuse on Saturday night.  The Amerks were down 2-0 in the first period but found a way to come back and win the game 3-2 in overtime.
3:33 into the first period Jon Mirasty layed a huge hit on Beaverson against the boards.  There was no penalty called but Jimmy Bonneau was also on the ice and quick to go after Mirasty and get a fight going.  Mirasty should have been given a boarding penalty on that hit.
Tim Miller put the Crunch on the scoreboard first at 10:02 of the first period.  Miller had tipped in a slap shot by Nick Holden.  Jon Mirasty was also credited with an assist.
At the next faceoff Jimmy Bonneau and Jon Mirasty dropped the gloves a second time for a real fight.  Mirasty appeared to get in a few more direct punches than Bonneau but credit is due for Bonneau for busting open Mirasty's left eye.
Maksim Mayorov scored four minutes later with an assist to Jared Aulin.
Jimmy Bonneau scored at 17:08 of the first period on the power play to get the Amerks within one goal.  Bonneau was in front of the net and tipped in an Ellerby shot from the blue line.
The second period did not have any scoring but it was physical.  It all started when Peter Aston hit Derek McKenzie hard into the boards in the Amerks end.  Tom Sestito skated across the ice to chase down Peter Aston and tackle him to the ice.  Kenndal McArdle got a penalty for 3rd man in and a game misconduct for coming to Astons defense.
I think it's safe to say we'll see McArdle and Sestito settle this on Sunday afternoon in Rochester.
The Amerks had a five minute power play since Sestito was given a five minute major.  The best scoring chance was by Jamie Johnson with six seconds left as he went around two Crunch players but LaCosta made an excellent glove save.
Fast forward to 12:53 of the third period where Jamie Johnson tied the game 2-2.  Johnson was all alone to take a rebound off a shot by Ellerby to put a shot past LaCosta.
The game ended tied 2-2 and went into overtime.
The Amerks came on strong in OT with a number of odd man rushes against the Crunch led by Jeff Taffe and Mike York.
With 34 seconds remaining in OT the Amerks capped off the come from behind victory from a goal scored by Michal Repik.  Chris Taylor and Mike Caruso were given assists for leading the play into the Crunch end.
The win puts the Amerks in sole possesion of firth place in the North Division and also extends their winning streak to six games.
It was pretty even throughout much of the second half of the game.  The speed and skill difference between the Amerks and Crunch was evident in overtime.
Alexander Salak and Dan LaCosta both had great games trading great saves.  In the end Salak kept the Amerks in the game.
With Fitzpatrick and Garrison out of the lineup both Peter Aston and Luke Beaverson saw a lot of ice time and both played well.  Jimmy Bonneau also earned a lot of ice time even after two fights with Mirasty.
Same two teams Sunday afternoon for what will be another battle.  The Amerks have played some great hockey at home and should have the momentum heading into the game.
———————-
Rochester Americans 3 (OT) At Syracuse Crunch 2 – Status: Final OT
Oct 24, 2009 – Onondaga County War Memorial at Oncenter
Rochester 1 0 1 1 – 3
Syracuse 2 0 0 0 – 2
1st Period-1, Syracuse, Miller 1 (Holden, Mirasty), 10:02. 2, Syracuse, Mayorov 2 (Aulin), 14:17. 3, Rochester, Bonneau 1 (Ellerby, Repik), 17:08 (pp). Penalties-Bonneau Rch (fighting), 3:33; Mirasty Syr (fighting), 3:33; served by Picard Syr (bench minor – too many men), 6:24; served by Dadonov Rch (bench minor – too many men), 7:39; Bonneau Rch (fighting), 10:03; Mirasty Syr (fighting), 10:03; Taylor Rch (hooking), 10:42; Mink Rch (roughing), 15:53; Salak Rch (roughing), 15:53; Pelletier Syr (interference, roughing), 15:53; Picard Syr (roughing), 15:53.
2nd Period- No Scoring.Penalties-McArdle Rch (tripping), 0:13; Liffiton Syr (roughing), 5:50; McArdle Rch (roughing, game misconduct – third man in), 7:47; Sestito Syr (fighting, game misconduct – aggressor), 7:47; Ratchuk Syr (cross-checking), 10:09; Dadonov Rch (interference), 13:25; LaVallee-Smotherman Syr (high-sticking), 17:28; Aston Rch (roughing), 19:08; MacKenzie Syr (roughing), 19:08.
3rd Period-4, Rochester, Johnson 1 (Ellerby, York), 12:53. Penalties-Henry Rch (slashing), 10:03; Mink Rch (elbowing), 13:42; Aulin Syr (tripping), 13:50; Matthias Rch (goaltender interference), 16:13.
OT Period-5, Rochester, Repik 6 (Taylor, Caruso), 4:26. Penalties-No Penalties
Shots on Goal-Rochester 7-11-10-5-33. Syracuse 7-5-10-2-24.
Power Play Opportunities-Rochester 1 of 7; Syracuse 0 of 7.
Goalies-Rochester, Salak 4-0-0 (24 shots-22 saves). Syracuse, LaCosta 2-3-1 (33 shots-30 saves).
A-4,372
Referees-Jean Hebert (87).
Linesmen-Jeff Walker (28), Derek Sylvester (76).